Doctor of Laws Degree
The Doctor of Laws degree shall be conferred upon individuals who have distinguished themselves through prolonged superior service in their field of endeavor.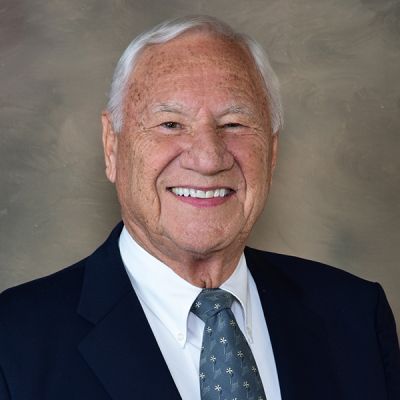 Rev. Dr. R. John Buuck
Germantown, Wis.
Rev. Dr. R. John Buuck received a Bachelor of Science in Education from Concordia Teachers College, now Concordia University, Nebraska, in 1958, and a Master of Arts in ecology, with a minor in biology, from the University of Northern Colorado in 1964. He earned a Ph.D. in human physiology and a minor in biology from the University of Nebraska–Lincoln in 1971, a certificate in educational management from Harvard University in 1987, completed his colloquy in Pastoral Ministry through Concordia Theological Seminary in Fort Wayne, Indiana, in 1990 and received an honorary doctorate from the European University in Ukraine in 2016.
Buuck currently serves as a speaker for Food For The Poor to The Lutheran Church—Missouri Synod (LCMS) congregations, sharing his personal witness about their mission to care for the destitute as a means of living out the Gospel mandate to love one another. Food for the Poor is a nonprofit that provides meals, homes, schools and aid to impoverished populations throughout the Caribbean and Latin America.
A faithful servant, Buuck served the LCMS over six decades as faculty, dean of students and academic vice president at Concordia University-Portland from 1958-1979 and as president of Concordia University Wisconsin (CUW) from 1979-1996. During his presidency at Concordia Wisconsin, the campus was moved from the inner city of Milwaukee to Mequon, on the western shore of Lake Michigan. This move was an integral piece of Concordia Wisconsin's growth as a university, as it is now the largest Lutheran institution of higher learning in the United States. In 1989 and 1990, Buuck served as vice president and president of the Lutheran Education Conference of North America, respectively. After his retirement from CUW, Buuck served as a winter assistant pastor at Hope Lutheran Church in Bonita Springs, Florida.
In 2000, Buuck and Rev. Dr. Paul Fynn, president of the Lutheran Church Ghana, founded Wisconsin International University College–Ghana (WIUC-GH), with the mission to develop world-class leaders equipped with the appropriate knowledge, skills and attitudes to meet national development needs and global challenges. Wisconsin International University also established branches in Estonia and Ukraine, with a Liberia branch in development. Buuck has developed partnerships in Brazil, China, Hong Kong, Malaysia, Nigeria and Taiwan in providing undergraduate and graduate degrees.
Buuck previously served the LCMS World Mission as an Ablaze Ambassador for Evangelism, a worldwide initiative among confessional Lutherans to share the Gospel with 100 million unreached or uncommitted people by 2017, the 500th anniversary of the Reformation, and was the Northwest District Coordinator for campus ministry. He served as a vacancy pastor at Beautiful Savior in Mequon, as a summer assistant at Beautiful Savior in Milwaukee and as a summer assistant at First Immanuel in Cedarburg, Wisconsin. Buuck also served numerous boards and councils in service to the church, including the LCMS Board for Higher Education's evaluation team.
Buuck and his wife Lyla (Krumm) '59, live in Germantown, Wisconsin. They have four children, David, Steve, Tom and Cheryl, all of whom graduated from Concordia Wisconsin, 11 grandchildren and two great grandchildren.