Honor societies induct new members
Published by Concordia University, Nebraska 9 years ago on Fri, Apr 27, 2012 12:35 PM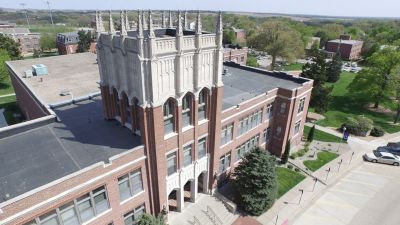 Three honor societies at Concordia inducted new members during ceremonies on Wednesday, April 25. The societies recognize outstanding students in the areas of English, communications and theatre arts.
Sigma Tau Delta, a national English honor society, inducted eight members into Concordia's Rho Omicron chapter, one of over 775 active chapters across the U.S. Concordia's chapter publishes Potpourri, an annual student literary magazine, and provides professional and academic opportunities including internships and scholarships for its members.
Sigma Tau Delta inductees:
Daniel Brown, Sophomore, Omaha, Neb.
Sarah Dinger, Senior, Pocatello, Idaho
Kara Dunn, Junior, Grand Island, Neb.
Ryan Fiero, Senior, Austin, Texas
Emily Hemphill, Sophomore, Utica, Neb.
Kaellyn Marrs, Junior, St. Louis, Mo.
Christina Sereda, Junior, South Amboy, N.J.
Hillary Snyder, Senior, Dodge City, Kan.
Pi Kappa Delta, a national collegiate forensic organization, inducted 15 new members into its Nebraska Lambda chapter. This society recognizes scholars in the areas of communication, speech and debate. It offers service and fellowship opportunities and promotes the ethical and honest use of communication and research. Pi Kappa Delta celebrates its 100th year as an honor society in 2012.
Pi Kappa Delta inductees:
Taylor Baumeister, Sophomore, Ironwood, Mich.
Sarah Dinger, Senior, Pocatello, Idaho
Heather Eden, Senior, Boise, Idaho
Andrea Gaide, Junior, Lakewood, Colo.
Caylen Grasz, Sophomore, Elkhorn, Neb.
Lindee Jackson, Sophomore, Fairmont, Neb.
Tonya Johnson, Sophomore, Mason City, Neb.
Naomi Kuddes, Freshman, Austin, Minn.
Michala Maurer, Freshman, Columbus, Neb.
Emily McAllister, Senior, Atkinson, Neb.
Allison Mellick, Senior, Omaha, Neb.
Zach Pilfold, Sophomore, Seward, Neb.
Stephanie Schroeder, Freshman, Deshler, Neb.
Emily Taylor, Freshman, Pierce, Neb.
Megan Thornburg, Sophomore, Harlingen, Texas
The Nebraska Omega Lambda chapter of Alpha Psi Omega, a national theater honor society, inducted 14 members this spring. The society recognizes student contributions to and involvement in theatre arts programs. Admission is based on a points system, and inductees must recite a Shakespearean monologue during their induction.
Alpha Psi Omega inductees:
Austin Albers, Junior, Sioux Falls, S.D.
Kirsten Awe, Sophomore, Tilden, Neb.
Elizabeth Bargar, Senior, Fairbury, Neb.
Brittany Becker, Junior, Saint Peters, Mo.
Nick Butcher, Sophomore, Saginaw, Mich.
Kristin Easler, Senior, Fredericksburg, Va.
Martin Kois, Senior, Omaha, Neb.
Nick Lee, Senior, Seward, Neb.
Andrew Metcalf, Senior, St. Louis, Neb.
Daniel Miller, Junior, West Point, Neb.
Tory Petz, Senior, Beemer, Neb.
Jordan Schultz, Senior, Beemer, Neb.
Caitlynn Schwehn, Junior, Grand Island, Neb.
Steven Whitney, Senior, Kenyon, Minn.