With Eyes on the Future
Published by Concordia University, Nebraska 3 years ago on Mon, Jul 1, 2019 12:07 PM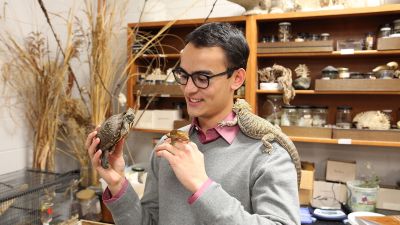 Nathan Patron '19 knew Concordia University, Nebraska was the place he wanted to be from the start. When he came for a visit, it just felt right. "It felt like home," Patron says. "It was small enough that I could really connect with people, even on my visit. It felt like a good fit for me."
Over the past four years, Patron has found a second family in the Concordia science department, where he's studying biology and chemistry and planning to attend graduate school to become an optometrist. He works as a lab assistant to earn the extra proficiency that will help him be successful in grad school and in his career. And he's also a member of the University A Cappella choir, which allows him to pursue his love of music.
It's a dynamic, well-rounded college experience that wouldn't have been possible for Patron without the scholarships he received from Concordia. As a member of a Lutheran church, Patron earned the Lutheran Heritage Guarantee, which awards students who qualify a minimum of $20,000 in institutional aid. He also received a music performance scholarship and academic scholarships.
"It's really been a blessing to me to have those scholarships, because I don't have to work," says Patron. "It frees me up to be able to study and apply myself and focus, without all the time commitments like a lot of my classmates. That's given me the ability to excel and hit the ground running."
Will you Answer the Call to directly support Concordia students as they are equipped to serve their extraordinary purposes? Make your gift today.