In the Long Run
Published by Concordia University, Nebraska 3 years ago on Mon, Jul 1, 2019 3:31 PM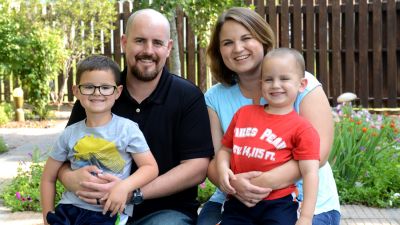 On paper, Heath Trampe looks like the typical Concordia University, Nebraska alumnus. A native of Kearney, Nebraska, Trampe received a bachelor of arts degree in interpersonal communication from Concordia and a master of divinity and doctor of ministry in leadership and missions from Concordia Theological Seminary. He is the lead pastor at Faith Lutheran Church in York, Nebraska. Trampe and his wife, Andrea, have two boys, Jonathan, 8, and Andrew, 5.
But once upon a time, Trampe could have never guessed where God would lead him. While he is a typical alumnus, Trampe was not a typical Concordia student. In fact, he almost wasn't a Concordia student at all.
Trampe's first college of choice was a state school, where he ran cross country. He excelled academically and athletically, but not spiritually. "There was nothing wrong with the school," Trampe says, "but I managed to abandon my faith and fall in with a group of friends who weren't good for me. After careful deliberation with my parents, we decided that my life needed a change."
By the time Trampe transferred to Concordia, he was already a senior. "If I'm being honest, I wanted to go to Concordia primarily because of their stellar running programs," says Trampe. "At the time, I wasn't that interested in God or the Bible. But God had other plans."
A moment in class changed Trampe's life forever. "I was 20 when I took my first New Testament class," he says. "Even as a lifelong Lutheran Church – Missouri Synod member who went to church most weeks, I didn't realize then that there were four gospels. I'm not proud of this memory, but I hope others can find inspiration in it. I was convinced, after we had studied Matthew and moved onto Mark (two similar, but utterly distinct, accounts of Jesus' earthly life and ministry), that my Bible was a misprint. I reasoned that the Bible wouldn't record Jesus' ministry more than once. When it hit me just how far behind my classmates I was, I went to my dorm room and wept. I had a high GPA going into my senior year, but I knew less about the Bible than my eight-year-old currently does."
In that moment, God lit a fire under Trampe. He began to reconnect with the faith and Savior he had abandoned. "God worked through Concordia to save my life," Trampe says.
For two years, Trampe worked on earning his degree, helped the cross country team win conference and regional titles and strengthened his faith. "Concordia prepared me for the rest of my life, and my friends, coaches and teachers encouraged me to take my faith seriously," says Trampe.
"Once I had tasted and saw that the Lord is good, I had an insatiable appetite to learn more about Jesus Christ and His work for me," he says. After graduation, Trampe and his wife traveled to Latvia as LCMS Globally Engaged in Outreach (GEO) missionaries. In 2009, Trampe's first book, "Extraordinary News for Ordinary People," a Bible study devotional, was published. He earned his master of divinity and doctor of ministry and began sharing God's love as a pastor.
After serving as associate pastor at St. Peter's Lutheran Church in Indiana, Trampe accepted a call closer to home: as senior pastor of Faith Lutheran in York, Nebraska, just down the road from Seward and Concordia. "I enjoy proclaiming Christ crucified and sharing life with brothers and sisters in Christ," he says. "There is nothing like it."
It's a career path and a life that he attributes to God, his faith and Concordia. "Since graduating in 2005, I have felt like a poster boy for Concordia, if only because the school changed my life so dramatically," says Trampe. "I was always a solid student, but Concordia inspired me to be a good person. More importantly, my time at Concordia equipped me with an understanding of Jesus Christ and my Christian faith that I simply had not possessed when I arrived in 2003."
Heath Trampe is a poster boy for Concordia for a simple reason: he lives his faith every day and strives to share and grow God's kingdom. He serves and leads in his community, in his church and in the world. And that, more than anything, is what makes him the most traditional, typical Concordia alumnus of all.
Will you Answer The Call to help students like Heath get a Christ-centered higher education so they can strengthen their faith and serve a higher purpose? Make your gift today.