Concordia Nebraska is a Sending Place
Published by Concordia University, Nebraska 3 years ago on Mon, Jul 1, 2019 3:30 PM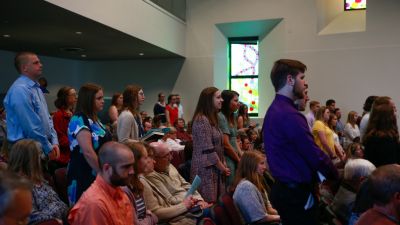 The Latin root for "send" is found in our English word "mission." Mission is sending with the purpose of accomplishing something, as in diplomatic mission or the mission to the moon. Our God is a sending God who sent His own Son to accomplish salvation for mankind. On that first Resurrection Day, Jesus appeared before the disciples in a locked upper room and said, "As the Father sent me, so I send you" (John 20:21). Etched in cement on the plaza on Concordia's campus you find these words of Jesus, "You will be my witnesses … to the ends of the earth" (Acts 1:8).
Sending is woven into the DNA of Concordia. It isn't an accident that the Sower, who liberally spreads the Word, is part of Concordia's corporate seal. Concordia prepares men and women to be sent with purpose — they are not sent with selfish, navel-gazing goals to become rich and famous — but rather to serve in church and world. They are sent to be a part of God's mission. They are sent to let their lights shine that others see their good works of love and glorify God in heaven (Matthew 5:16).
Concordia graduates find themselves in countless vocations and they accomplish much in worldly terms, but there is significantly more. They have been sent to show others that they have a Lord who loves them and wants a forever relationship with them. This is a sending with eternal consequences and why for 125 years Concordia has been a blessing to church and world.
With 16 church work programs and a 100 percent placement rate, Concordia University, Nebraska prepares more church workers for The Lutheran Church — Missouri Synod than any other Concordia University. As of 2018, nearly 30 percent of current LCMS church workers were trained at Concordia Nebraska.
Will you Answer The Call to provide resources for students who are serving the Church through their vocations and mission trips? Make your gift today.