Stewards of the Earth
Published by Concordia University, Nebraska 3 years ago on Mon, Jul 1, 2019 12:12 PM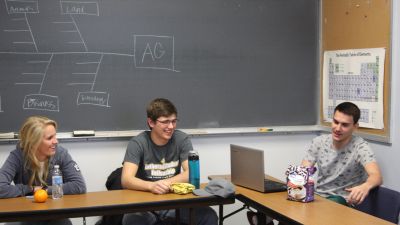 The book of Psalms tells us that "the earth and everything in it, the world and its inhabitants, belong to the Lord." As Christians, it's our charge to be good stewards of the earth and all the resources He has given us. Concordia University, Nebraska has always been dedicated to that mission, so when a team began to design an agricultural science major, they knew that stewardship would be at the program's core.
"The agricultural science program is a particularly good fit for our mission and our location," says Dr. Robert Hermann, professor of physics and chair of the natural science department, who helped build the program. "To prepare people for the church and world is to prepare people to be part of the global economy. Stewardship is a calling to care for our resources, but also to help provide resources for others."
To achieve the goal of helping students become good stewards, Hermann and the rest of the program development team knew that the agricultural science major would have to have a hands-on, out-in-the-field component from start to finish.
"The way we envision it is that in the first year introductory courses, there will be opportunities to go out into the field for visits with a wide range of ag industry leaders," Hermann says. "So they students will visit financial institutions, food production facilities, grain and cattle industries, all different sorts of agricultural industries."
In the middle two years of the curriculum, students will have lab courses with assignments where they can work with local ag producers on a project that benefits their business, while our students learn about agriculture and their operation. Plus, one of the science labs in the new Dunklau Center for Science, Math and Business will be entirely dedicated to agricultural sciences, which means our students will get the most comprehensive, hands-on education available, in the field and in the classroom.
In the final year, students will complete internships with one or more local businesses. Every step of the program will include real-world experiences, in which Concordia students learn about different types of agriculture from working businesses and community ag partners get assistance from students who are learning current, up-to-the-minute techniques in the classroom to help those ag industries thrive.
In meeting with local agricultural businesses, the program development team discovered that the main thing ag producers are looking for when hiring college graduates was that hands-on experience. The second thing they need is graduates who can "speak ag."
"They need graduates who are broadly trained, who have a liberal arts education so they have the critical thinking skills and communication skills," says Dr. Hermann. "That way, they have a wide range of knowledge of a wide range of things, but they also know how ag works."
Concordia's agricultural science degree will offer a high-quality, hands-on education in a small town, Christian environment, so that future generations of agricultural leaders can become the leaders and steward that God has called them to be.
Will you Answer the Call to provide resources for the agricultural science program, helping Concordia continue developing stewards of God's resources? Make your gift today.