Rooted in Faith
Published by Concordia University, Nebraska 3 years ago on Mon, Jul 1, 2019 12:13 PM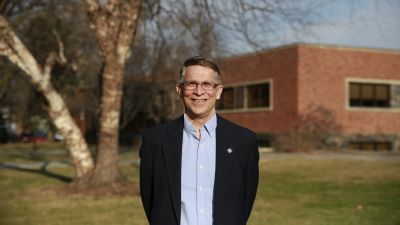 Dennis Brink, an animal science expert with 40 years of teaching experience, joined Concordia University, Nebraska to lead the new agricultural science program.
Teaching and agriculture are in Brink's blood. His connection to agriculture started as a youngster, growing up near Valley Center in rural Kansas, helping his dad and uncle on the 80-acre family farm raising beef and dairy cattle, sheep, pigs and chickens.
Brink earned all three of his degrees from Kansas State University — a B.S. in agriculture in 1971, a M.S. in animal science in 1975 and a Ph.D. in animal nutrition in 1978. From 1971-1975, he worked for the Kansas State Cooperative Extension Service as a County Extension 4-H agent. He then as a professor at the University of Nebraska-Lincoln for 40 years, retiring in early 2018 as the Kermit Wagner Distinguished Professor in Animal Science and coordinator of undergraduate teaching and advisement.
In March 2018, Brink brought his experience and knowledge to Concordia, as he was announced as Concordia's first professor of agriculture, as he would help develop the agricultural science program.
"I have been blessed to be involved in agriculture and education my entire adult life," Brink said. "It is an amazing opportunity to now help build partnerships for Concordia with the large number of individuals involved in agriculture, from within a few miles of Seward to across the United States and even other parts of the world, many of whom are already stepping up to play a role in the Concordia ag program."
The agricultural science program at Concordia will provide a new way of learning the industry in Nebraska. Unlike other programs where students are required to specialize in a certain field, they will learn each of the four main concepts, animal science, food science, plant science and agribusiness, allowing students to have a wide background and can be trained for specialized jobs after they graduate.
"There are three attributes we are striving for with our ag science graduates," Brink said. "The first one is they know what ag is, they know the terminology, the disciplines and they can apply it to their vocation. The second is applying it in their vocation as stewards of God's creations. The third is that they become leaders in their local or global community in solving problems for agriculture."
During the 2019 spring semester, Brink taught an introduction to ag course with 10 students who ran the gamut of agriculture experience. It was the first time in his teaching career that Brink could teach God's word in the classroom.
"Using scripture through God's word throughout the curriculum brings me joy," Brink said. "It's a spiritual gift."
In that first class, Brink took the students to visit dairy farmers, food producers and also large corporations like BASF. Many guest speakers, including Concordia alum Kenlon Johannes '71, who is the Kansas Soybean Association CEO and commission administrator, visited the class as well to provide students additional perspectives on the industry.
Some of the experiences Brink had in teaching that first class allowed him to incorporate lessons into the program's development. For example, with the influx of people who are willing to visit with the class, Brink would like to create an Ag in the World class as part of the curriculum, that would focus on bringing in industry professionals to speak to the class and also have students go to different local professionals and interview them about their careers.
The agricultural science program will be housed in the Dunklau Center for Science, Math and Business, Concordia's newest building, that will have 86,000 square feet of laboratory space, research areas, lecture halls, classrooms and collaborative spaces. The Dunklau Center will also encourage collaboration between Brink and the science faculty, he said, where he can learn chemistry, physics and biology lessons from them and then adapt those lessons to be relevant in agriculture.
"I am enthused about the opportunity of working in the ag sciences lab," Brink said, "just teaching the science of agriculture."
Will you Answer the Call to provide resources for the agricultural science program, helping Concordia continue developing stewards of God's resources? Make your gift today.