Building Connections in Ag Club
Published by Concordia University, Nebraska 3 years ago on Mon, Jul 1, 2019 12:12 PM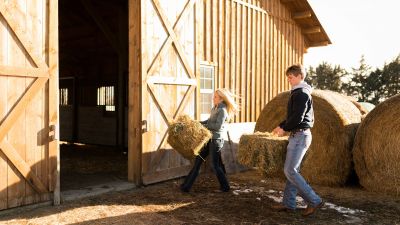 Concordia's newest club was formed for students who are passionate about agriculture. The Ag Club began in fall 2018, as a way for students to learn about production agriculture and meet other students who share their interests.
"Ag Club is a unique opportunity that will allow for students to participate in hands-on learning experiences, while building relationships and connections within the Seward and ag communities," says Madi Baker '22, one of the club's founders.
The student-led club is just getting started, but its members already have big plans. "I hope it's something that will be very involved in the community," says Josh Schick '20. "I want to educate people about agriculture. People don't know where their food comes from, and I think that's important."
"I feel that adding an Ag Club here on campus will allow for new learning opportunities, while creating stronger, genuine relationships between Concordia and the community around us that didn't exist before," says Baker.
Schick and Baker are also hoping that the Ag Club can help students on campus. "I hope we have people from all backgrounds come into it," Schick says, "so they can learn about agriculture and have new experiences in ag by joining the club."
"We hope to provide students with internships, job opportunities and hands-on learning experiences that they may not find elsewhere," adds Baker. "Most importantly though, we want to reach out into the community and not only say thank you to our supporters, but also, establish genuine relationships with those that have shaped agriculture into what it is today." 
Will you Answer the Call to provide resources for the agricultural science program, helping Concordia continue developing stewards of God's resources? Make your gift today.