Fall Athlete Orientation Day
This is your guide for Fall Athlete Orientation Day. The schedule below will help keep you on track for the day's exciting activities.
Note: This schedule is subject to change each year.
Fall Athlete Orientation for 2020 is on August 7.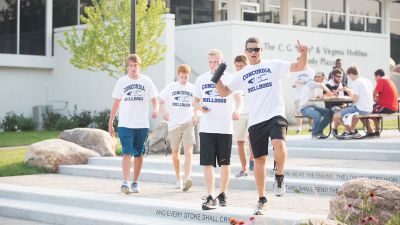 Fall 2019 Schedule
Thursday, August 8
Taking Care of Business
8:30 a.m. - 12 p.m.
JCC Upper Level, Lobby and Cattle Conference Room
Check in with Admissions Counselor
Sign up for music audition time
Register vehicle and bicycle
Check health records
Check Athletic Participation forms
Meet area bank reps - Cattle Bank & Trust, Jones Bank
Verify financial information with Student Financial Services (Janzow 204)
Verify FERPA information
Library Resources
Student Employment
Freshmen check-in with first year advisor
Academic Resource Center & ADA info
Check for employment opportunities
Pick up residence hall keys
Have "First Day of College Photo" taken with Bruiser sponsored by the Alumni Office
Lower level of Janzow Campus Center (JCC)
Pick up Post Office box keys (8 a.m. - 5 p.m.)
Check CUNEAlert
Weller Main Level
Have ID/Yearbook photo taken (Weller 102)
Lunch (Optional)
11 a.m. - 12:30 p.m.
Janzow Campus Center Dining Hall
Students eat free. Meals can be purchased on a cash basis for $5 each.
Athletes and Parents Welcome
1:45-2 p.m.
Walz Arena
NAIA Orientation and Student Panel
2-3:30 p.m.
Students - Mandatory NAIA New Student Athlete and Policy Orientation Thom Auditorium
Parents - Current Bulldog Student Athletes will talk about ways you can help your son or daughter be a successful student athlete Walz Arena
Athletes and Parents Meetings
3:45-4:45 p.m.
Meet in the following locations:
Football - Thom Auditorium
Volleyball - Walz Hall of Fame Room
Men's Soccer - ​​​​​​Walz Field House Viewing Room
Women's Soccer - ​Walz, Lower Level Lounge
Free Farewell Picnic
5-7 p.m.
Janzow Campus Center Dining Hall
Athletes and parents join faculty, staff, coaches and RAs. Thank you, parents, for being with us today!