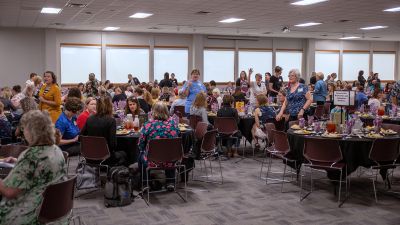 5th Annual Breakfast and Books
Janzow Campus Center - Cattle Conference Room
Wake up and come celebrate literacy with us! Our Breakfast and Books event—focused on teachers, librarians, book writers and illustrators and book lovers—will consist of book sales, breakfast and keynote addresses. An incredible lineup of well-known illustrators are joining us for our fifth annual Plum Creek Literacy Festival Breakfast and Books program!
Begin the morning by shopping for books by our speakers; then enjoy a delicious breakfast, followed by engaging and dynamic keynotes; and round out the day with a few special giveaways and time for autographing.
Schedule for the Day
Registration and Book Sales Open
8-8:30 a.m.
Breakfast Buffet Opens
8:30-9:15 a.m.
Welcome and Introduction
9:15 a.m.
Jackie Urbanovic Keynote
9:30-10:15 a.m.
"Pippi Longstocking has nothing on my parents"
Children's fiction is no more unbelievable than the lives we all live. I will be exploring the connections between life experience and creating stories. How do the experiences of my grandparents and parents affect the way I tell stories? What do long walks, dandelions, ducks, politics and family bibles have to do with writing for children? I'll tell the behind-the-scenes stories about the words and pictures from my published stories as well as stories in progress. I want to add up my family history, our literary history, our shared biology, and everyday miracles to see where my stories, and maybe all stories, come from.
Lou Fancher and Steve Johnson Keynote
10:30-11:15 a.m.

"How do...?"
The two questions we are asked most often are, "How do two artists paint on the same painting?" and "How do two artists collaborate on a children's book and not fight?" (Answers: it's messy and yes, we fight. Although after 35 years, it has yet to come to literal physical blows, we do resort to bribery: chocolate, a day at the beach, daily ice cream applications, etc.) In thinking about "How do's" we've encountered, it occurs to us that much of life pre-pandemic and as we emerge from lockdown invites the same two-word sentence starter. How do we survive a year of isolation and no trips to a local library or independent bookstore? How do we come out of home hibernation and feel safe? How do we speak and listen to people with whom we disagree? How do we raise our children and preserve the planet when so much of life and liberty seems threatened? How do I establish—each one of us—a place that is my own, but also live in concert within a community? How do I tell my story? (We don't claim to have all the answers, but we sure know how to ask questions and we'll try to answer yours!)
Lynne Rae Perkins Keynote
11:30 a.m.-12:15 p.m.

"Real Souvenirs From Imaginary Places or I'm Still In Love With The Real World"
I have liked making stuff ever since I can remember. I think making stuff – physical, tactile, non-digital – satisfies something deep within us. While lots of people were making sourdough bread last year (which, by the way, was delicious!), I was making dioramas, for a picture book called The Museum of Everything. I will talk about this book, these dioramas, making stuff, and childhood. See you there!
Announcements and Giveaways
12:15-12:30 p.m.
Book Sales and Autographing Time
12:30-1:15 p.m.
Meet The Speakers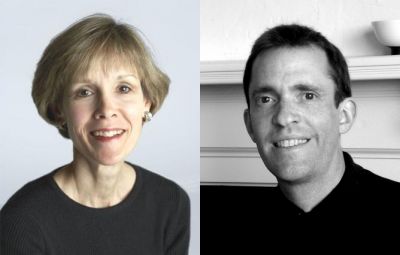 Lou Fancher and Steve Johnson
Lou Fancher and Steve Johnson have worked as a creative team for over 26 years, producing illustrations for annual reports, brochures, posters, movies, advertisements, book covers and magazines. Together they have illustrated over 45 children's books, including Dr. Seuss's My Many Colored Days, Garrison Keillor's Cat, You Better Come Home, and Jon Scieszka's The Frog Prince, Continued. Their 2000 release, I Walk At Night, was recognized as one of The New York Times Best Illustrated Books. They are the recipients of a gold medal from the Society of Illustrators and have been recognized by Communication Arts, Print, and Graphis. Lou and Steve provided set and character development for Pixar's Toy Story and A Bug's Life. They live in Moraga, California.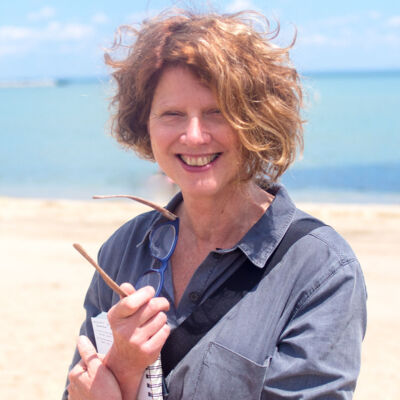 Lynne Rae Perkins
Lynne Rae Perkins has always liked making stuff. In college (BFA-Penn State University, MFA -University of Wisconsin-Milwaukee), she made drawings, paintings, and prints. For the past 28 years, she has mostly made books for young people, both picture books and illustrated novels. Though it still feels funny to call something a novel when the characters are squirrels. Or mice.
Two of her picture books, Home Lovely and Snow Music, were Boston Globe-Horn Book Honor Books. In 2006, she received the Newbery Medal for Criss Cross. On December 24, 2011, she was a clue in the New York Times Sunday crossword puzzle, which gave her real credibility with her mother.
Lynne Rae and her husband Bill, who makes rustic furniture, live in northern Lower Michigan. They have two grown children, Lucy and Frank, who live too far away, and a medium-sized brown dog named Hazel.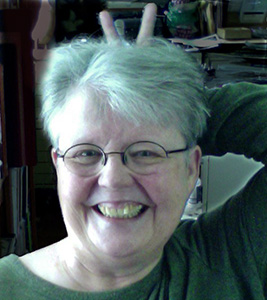 Jackie Urbanovic
Jackie Urbanovic was born in Michigan and grew up on the shores of Lake Erie. Since then she has been collecting M states: she has also lived in Minnesota, Maryland, and Massachusetts! She is an avid reader, book collector, and flea market junkie. She has always lived with dogs, cats, and birds, and she loves walking in the woods with her sweet pup, Nick. She has illustrated books for Jack Prelutsky, Erica Perl, April Pulley Sayre and Tammi Sauer. She is the author and illustrator of Prince of a Frog and Duck at the Door, the first in her New York Times bestselling Max the duck series. Learn more about her online at www.jackieurbanovic.com.