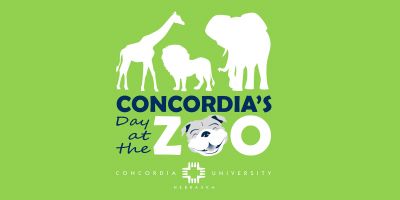 CANCELED: CU Day at the Zoo
Henry Doorly Zoo
All events through April 3 will be postponed or canceled. We will continue to evaluate future events as the situation evolves.
In response to the COVID-19 (coronavirus) situation in Douglas County, we have decided to cancel Concordia Day at the Zoo in Omaha for the safety of attendees and our larger community. A full refund will be provided to those who registered within 14 business days. Thank you for your understanding and prayers as we continue to navigate this situation. We look forward to our next Concordia Day at the Zoo! If you have questions, please visit cune.edu/covid19 for the latest updates from Concordia on how we are responding to the coronavirus situation.
---
Join the Concordia community for our 3rd annual Concordia University, Nebraska's Zoo Day on Saturday, April 25th, 2020 at the Henry Doorly Zoo in Omaha!
Concordia's zoo admission table will be open at 8:00 am on the day of the event at the Zoo's main entrance. Guests can join Bruiser the Bulldog in the Zoo's Wild Kingdom Pavilion at 8:30 am where we will kick off with an "official" welcome, short presentation by Concordia Science Faculty, and several of the zoo's Animal Ambassadors will stop in for a special, up-close visit! For the safety of your child and the animal visitors, please listen carefully to the handlers' instructions and follow all directions. Some animals may be touched, but others are better for photos only. Then you will head out and enjoy a full day at the Zoo on your own! Everyone is welcome—so grab your family and friends and join us for fun and fellowship!
Zoo passes—yes, if you have an Omaha Zoo pass already, you are all set! You are welcome to come in the morning and join us at the Wild Kingdom Pavilion before the Zoo opens. Just say "We're with Concordia!"
Those who purchase a t-shirt will receive a "Concordia Zoo Day" shirt in the size specified and four (4) tram tokens, which can be used separately or together for one round-trip ride on the zoo tram. You will be notified when your t-shirts or tickets will be available for pick up in the Concordia University Alumni Office (Weller 206) or will be mailed to you in advance of the event.
Tickets: *Limited to first 312 purchased
Adults (12& older) $10.00
Kids (3-11) $5.00
Kids (2 & under) Free
Zoo Day T-shirt $10.00
Shirts:
Sizes available-
Youth Small, Medium, Large
Adult Small, Medium, Large, Extra Large, XXL