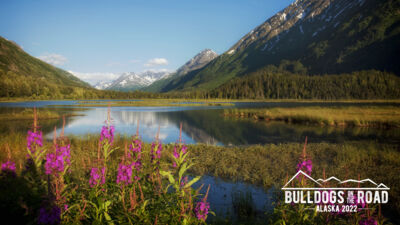 Bulldogs on the Road: Alaska Cruise
Feb. 5, 2021 update
Due to the ongoing COVID-19 pandemic, we have been working closely with our partners at Carrousel Travel and Celebrity Cruises and we have been in constant communication with them. Some international borders are still closed, and as of Feb. 4, the Canadian government has banned all cruise ships from entering Canadian ports or waters through Feb. 2022.
Before the ban was posted, we were already working on plans to postpone the trip due to the uncertainty caused by the ongoing nature of the pandemic. Being able to offer a safe, enjoyable, memorable trip is our highest priority, so we are pleased to tell you that all of our suppliers have agreed to postpone this trip until 2022. I think I hear some sighs of relief right now as you are reading this! While your deposits remain under a non-refundable status for the trip, the cruise line is offering you the ability to transfer your deposits a second time to a rescheduled cruise and tour departure in 2022 without any penalties. This is great news as your funds are secure and will be fully retained, and we can truly plan on a stress-free trip next year!
Looking ahead to 2022, we have secured what we believe are favorable dates for our trip. We will be sailing out of Vancouver on Friday, June 10, 2022 and ending our tour in Anchorage on Monday, June 20. Our itinerary and ship are what we originally planned for 2020 – nothing has changed. This will be a great time to visit Alaska, the weather will be slightly warmer (fingers crossed), and we'll have more time to explore in the daylight.
Your deposits that were made for 2020 were automatically transferred for 2021 and can be again to 2022. Carrousel Travel will be working to rebook your reservation and your original cabin category will be protected. They will do everything possible to get the same exact cabin number, but there may be some slight changes based on what is open for the rescheduled departure. If you choose not to transfer your deposit(s) to the rescheduled 2022 trip, you will have to forfeit the payments you have made, per Celebrity policies. Celebrity has made an exception for us to move our funds rather than lose them, which is greatly appreciated. No further payments are required at this time and new payment due dates will be communicated by Carrousel when new confirmations are sent out in the near future.
Since travel this summer is still somewhat questionable, we believe this is the best decision for all of us and will allow us to enjoy an amazing experience next summer. While it isn't what we originally planned, we hope you will join us next summer. Please note that if you choose not to transfer your deposit(s) to the rescheduled 2022 trip, you will have to forfeit the payments you have made per Celebrity's policies. This is not something Concordia has control over or a say in.
At this time there isn't anything that you need to do. Carrousel will rearrange all of the plans, the pre-stay in Vancouver (if you purchased that), and update all of your reservations. We know that some of you had airline tickets that resulted in credits for future use and some of those might expire prior to the 2022 dates. Carrousel will be working with each of those individual credits with the appropriate airlines to find solutions so those credits can still be used.
If you have signed up for Shore Excursions through Celebrity for the May 2021 trip, Carrousel will be taking care of canceling all of those excursions and your payments for those will be refunded to your credit cards. Shore Excursions do not incur penalties until about 3 days prior to sailing, so this is good news. You do not need to do anything with your shore excursion reservations booked with Celebrity as they will be handled by Carrousel.
If you purchased travel insurance through Carrousel, they will be contacting the travel insurance company to work on transitioning your policies. We don't anticipate issues with this, but please know that this is a special request since we are moving this a second time and needs the appropriate approvals to try to make this happen.
I also know that some of you have pre-or-post plans arranged around the May trip. Carrousel will be reaching out to those of you who made those plans with Carrousel to rework those as well. If you have made some of your own plans, you will need to contact the appropriate travel companies or hotels for their assistance.
If you have specific or urgent questions at this time, please send them to me and I will do my best to assist you. We appreciate your support and patience as we work on getting our trip re-accommodated.
We hope that this news is positive for you, and we appreciate your patience and support throughout this unprecedented year. Concordia is so excited to have this experience with you in June 2022! Thank you again for your patience and your prayers as we continue working through all of the details to ensure we have an amazing trip next year!
Blessings,

Jennifer Furr
Senior Director of Alumni and University Relations
UPDATE: There are no oceanview or inside cabins left, only rooms left are veranda cabins
From unspoiled forests and majestic waterfalls to silver-blue glaciers and spectacular wildlife, discover Alaska's natural wonders! Join Concordia Alumni and Friends for a 10-day Alaska vacation of a lifetime including a 7-night cruise June 10 - June 20, 2022.
Your travel hosts will be:
Dr. Bernard and Joyanna Bull
Dr. Jack Kinworthy, professor of geography emeritus and Judi Kinworthy '74
Dr. Jen Fruend, assistant professor of biology and Dr. Jon Moberly, dean of the College of Business
Jen Furr CO '97 GR '03, senior director of alumni and university relations, and Quinton Furr '01
Highlights of the trip will include Anchorage, Talkeetna, riding on the Alaska Railroad, Denali National Park, visiting an Iditarod sled dog kennel, seeing the animals at the Alaska Wildlife Conservation Center and exploring Seward.
Course Credit Is Available for Current Students
From Vancouver to Anchorage, with a 3-day tour of Denali National Park, where we will enjoy God's great creations! All are welcome to join us—alumni, parents of alumni and students, students, Friends of Concordia, faculty, staff and everyone in between! The more the merrier!
We will host teleconference calls for us rookies on "how to go on a cruise," where you'll learn more about the trip and walk through additional details. If you are interested in being on a call and want more information, please send an email to Alumni Director Jennifer Furr (jennifer.furr@cune.edu), and she will add to you to the list.
You can also keep checking the cune.edu/alumni website. You won't want to miss this trip of a lifetime!
A very special thank you to Lutheran Church Extension Fund (LCEF), for sponsoring this great adventure. We look forward to having members of the LCEF team joining us on the cruise and sharing information about the wonderful services and ministries LCEF provides to its members.

Itinerary Summary
Pre-trip: Arrive in Vancouver
Day 1-8: Cruise for seven nights from Vancouver to Seward, Alaska, with port stops located along the Inside Passage, Ketchikan, Icy Straight Point, Juneau, Skagway, Hubbard Glacier and Seward.
Day 8: Seward, Anchorage and Talkeetna
Day 9: Talkeetna and Denali National Park
Day 10: Denali, Talkeetna and Anchorage
Day 11: Anchorage and flights home
Trip Cost Estimate (Does not include an extra day for arrival in Vancouver, more info to come)
Inside Cabin: $2,799 per person, based on double occupancy
Oceanview Cabin: $2,869 per person, based on double occupancy
Balcony Cabin: $3,929 per person, based on double occupancy
Cost Includes:
7-night, 8-day cruise onboard the Celebrity Millennium in chosen cabin category
All meals while onboard the ship with coffee, tea, water and lemonade
Deluxe motorcoach transportation from Seward to Talkeetna
One night accommodations at the Denali Park Village
Optional excursions at Denali National Park (at an additional cost)
Motor coach transportation from Denali to Talkeetna, then train transportation on the Wilderness Express glass-domed railcars to Anchorage
One night accommodations at the Anchorage Marriott
Airport to cruise ship transfers in Vancouver, hotel to airport transfers in Anchorage
All-inclusive beverage package onboard the cruise ship, includes specialty coffees, juices, sodas, bottled water and alcoholic beverages (a $450/person value)
Port taxes and fees
Not included in the cost are:
Cabin steward and dining staff gratuities - $101.50 per person
Meals during the land tour portion of the trip
Land package gratuities - at guest's discretion
Air transportation
Memory Book
As a way for us to get to know you better and for you to meet the other attendees, please submit some "memory book" content through this form and attach 1-2 photos. We will print up a book in advance of the trip and mail to you for pre-reading. This will be a great way to network and connect with our guests plus a fun keepsake from this experience.
Add your memory book submission