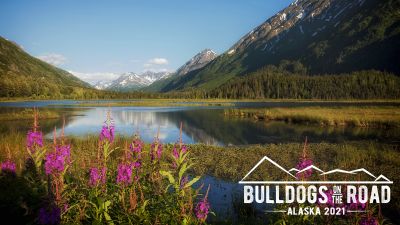 Bulldogs on the Road: Alaska Cruise
June 8 Trip Update
We are happy to announce that we have our final dates in place for 2021! We will be sailing out of Vancouver on Friday, May 28, 2021 and ending our tour in Anchorage on Monday, June 7, 2021. Our itinerary and ship will be exactly identical to what it was in 2020. This will be a great time to visit Alaska as everything will be fresh and will also start us off with a long weekend covering Memorial Day. For those of you who are working, this will be one less day of vacation for you to have to use.
In addition, due to the rescheduling situation, Carrousel Travel has negotiated for all of our group participants to also receive a $150 per person credit to use onboard the ship towards shore excursions expenses, shopping or spa treatments.
We tried hard to find dates that were similar to what we had for 2020, but due to the fact that our group is quite large, we needed to find dates that could accommodate all of the cruise cabins and hotel rooms that we required. Since cruises to Alaska in 2021 have already been open for sale since last fall, space was not available for July dates for us to travel together.
Your deposits that were made for 2020 will automatically be transferred to 2021. Carrousel Travel will be working on rebooking your reservation and your cabin category originally booked will be protected. They will do everything possible to get the same exact cabin number, but there may be some slight changes based on what is open for the rescheduled departure.
As we have communicated previously, if you choose not to transfer your deposit(s) to the rescheduled 2021 trip, you will forfeit the payments you have made. Celebrity Cruises has made an exception for us to move our funds rather than lose them, which is greatly appreciated. If you have any issues with the new travel dates, please reach out to Carrousel Travel to inform them of your situation for further discussion.
Once your rescheduled reservation is completed, Carrousel Travel will send you an updated confirmation including the details of your booking.
A pre-cruise Vancouver package will be developed again and we will share additional details about this in the coming months as these plans are finalized.
For your reference, here are some additional reminders that have been previously communicated. Updates have been made to reflect our 2021 travel dates:
We know that some of you may have already purchased airline tickets for this trip. If you purchased your air tickets through Carrousel, they have all of your information and will be addressing those. They have been waiting to complete this process until we had a final rescheduled date. If you purchased airline tickets on your own, you will need to reach out to your respective airline for current policies for your tickets. Most airlines are offering the ability to cancel your reservations and receive an electronic credit to use towards new tickets in the future. Some airlines will offer refunds if your actual flights are canceled later on, but they have not canceled flights yet for July, so you would have to wait a while for that potential option. Please note that flights for May 2021 are not yet available but will be in *in the next couple months.*
If you purchased travel insurance through Carrousel, your policies can all be transferred to the new dates (May 28-June 7) of travel and they will take care of this process once we have the rescheduled departure date. If you have a travel insurance policy that you purchased on your own, *now that we have our rescheduled travel dates,* you should reach out to that company as you should also be able to transfer your insurance.
For questions or concerns with the rescheduled trip, please contact Carrousel travel by reaching out to Kelsey Ludwig at kludwig@carrouseltravel.com or Doug Moorhouse at dmoorhouse@carrouseltravel.com.
Please continue checking this page for the most current information, we will be providing an updated brochure on this website in the next 7-14 days.
We are looking forward to experiencing Alaska in 2021 in a much safer, relaxed and enjoyable environment.
- Jennifer Furr CO '97 GR '03
Senior Director of Alumni and University Relations
UPDATE: There are no oceanview or inside cabins left, only rooms left are veranda cabins
From unspoiled forests and majestic waterfalls to silver-blue glaciers and spectacular wildlife, discover Alaska's natural wonders! Join Concordia Alumni and Friends for an 11-day Alaska vacation of a lifetime including a 7-night cruise May 28 - June 7, 2021.
Your travel hosts will be:
Kurth Brashear, vice president for institutional advancement and Jessica Brashear, M.A. in school counseling program director
Rev. Russ Sommerfeld, interim Concordia president, and Nino Sommerfeld
Dr. Jack Kinworthy, professor of geography emeritus and Judi Kinworthy '74
Dr. Jen Fruend, assistant professor of biology and Dr. Jon Moberly, dean of the College of Business
Jen Furr, senior director of alumni and university relations, and Quinton Furr '01
Highlights of the trip will include Anchorage, Talkeetna, riding on the Alaska Railroad, Denali National Park, visiting an Iditarod sled dog kennel, seeing the animals at the Alaska Wildlife Conservation Center and exploring Seward.
Course Credit Is Available for Current Students
From Vancouver to Anchorage, with a 3-day tour of Denali National Park, where we will enjoy God's great creations! All are welcome to join us—alumni, parents of alumni and students, students, Friends of Concordia, faculty, staff and everyone in between! The more the merrier!
We will host teleconference calls for us rookies on "how to go on a cruise," where you'll learn more about the trip and walk through additional details. If you are interested in being on a call and want more information, please send an email to Alumni Director Jennifer Furr (jennifer.furr@cune.edu), and she will add to you to the list.
You can also keep checking the cune.edu/alumni website. You won't want to miss this trip of a lifetime!
A very special thank you to Lutheran Church Extension Fund (LCEF), for sponsoring this great adventure. We look forward to having members of the LCEF team joining us on the cruise and sharing information about the wonderful services and ministries LCEF provides to its members.

Itinerary Summary
Pre-trip: Arrive in Vancouver
Day 1-8: Cruise for seven nights from Vancouver to Seward, Alaska, with port stops located along the Inside Passage, Ketchikan, Icy Straight Point, Juneau, Skagway, Hubbard Glacier and Seward.
Day 8: Seward, Anchorage and Talkeetna
Day 9: Talkeetna and Denali National Park
Day 10: Denali, Talkeetna and Anchorage
Day 11: Anchorage and flights home
Trip Cost Estimate (Does not include an extra day for arrival in Vancouver, more info to come)
Inside Cabin: $2,799 per person, based on double occupancy
Oceanview Cabin: $2,869 per person, based on double occupancy
Balcony Cabin: $3,929 per person, based on double occupancy
Cost Includes:
7-night, 8-day cruise onboard the Celebrity Millennium in chosen cabin category
All meals while onboard the ship with coffee, tea, water and lemonade
Deluxe motor coach transportation from Seward to Talkeetna
One night accommodations at the Denali Park Village
Optional excursions at Denali National Park (at an additional cost)
Motor coach transportation from Denali to Talkeetna, then train transportation on the Wilderness Express glass-domed railcars to Anchorage
One night accommodations at the Anchorage Marriott
Airport to cruise ship transfers in Vancouver, hotel to airport transfers in Anchorage
All-inclusive beverage package onboard the cruise ship, includes specialty coffees, juices, sodas, bottled water and alcoholic beverages (a $450/person value)
Port taxes and fees
Not included in the cost are:
Cabin steward and dining staff gratuities - $101.50 per person
Meals during the land tour portion of the trip
Land package gratuities - at guest's discretion
Air transportation
Memory Book
As a way for us to get to know you better and for you to meet the other attendees, please submit some "memory book" content through this form and attach 1-2 photos. We will print up a book in advance of the trip and mail to you for pre-reading. This will be a great way to network and connect with our guests plus a fun keepsake from this experience.
Add your memory book submission