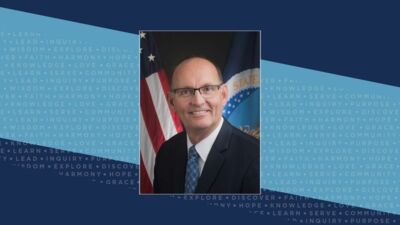 National Ag Week Forum
Pohlman Lecture Hall, Dunklau Center Room 109
In celebration of National Ag Week, the Concordia University, Nebraska Ag Club is hosting the First Annual National Ag Week Forum March 25, 2022, at 7:00 p.m. The keynote speaker for the event is Greg Ibach, former director of the Nebraska Department of Agriculture and former U.S. Department of Agriculture Under Secretary.
The forum is free and open to the community, but seating is limited. Please reserve your seat for the Concordia University Nebraska Ag Club Ag Week Forum here.
Keynote Speaker: Greg Ibach
Greg Ibach served as the Nebraska director of agriculture from 2005 to 2017 before being appointed as the Under Secretary of Agriculture for Marketing and Regulatory Programs. He earned a B.S. in Agriculture from the University of Nebraska-Lincoln with majors in animal science and agricultural economics. Ibach is married to wife, Teresa. The couple has three adult children and live on their family farm and ranch in Sumner, Nebraska.