Federal Loans
Federal loans are available to students and parents to provide them with funding after all other financial aid options have been exhausted. Unlike other financial aid such as scholarships, awards and grants, loans are borrowed money required to be paid back with interest.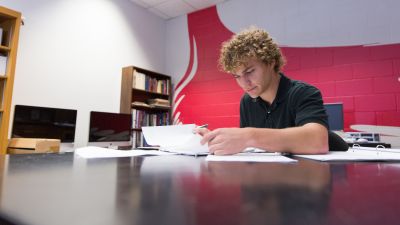 Federal Loan Programs
Federal Loan eligibility is determined upon the completion of the FAFSA. To be eligible for federal loans the student must be a U.S. citizen or an eligible noncitizen.
For a complete student guide on federal loans from the U.S. Department of Education, visit Federal Student Loans at Federal Student Aid.
Direct Student Loans
Federal Direct Loans are low-interest, long-term loans. The two types of Direct Loans a student can be eligible to receive are subsidized and/or unsubsidized loan. Both subsidized and unsubsidized loans have the same terms and conditions, with one exception: Unsubsidized loan borrowers are responsible for interest that accrues while in-school, grace and deferment periods; for subsidized loans, the federal government pays the interest on behalf of the borrower while the student is in school and during the grace period. Subsidized loans are a need-based loans determined by the results of the FAFSA.
Students are eligible to borrow up to the maximum amount of loan each year determined by their grade level. Students are eligible for the loan if enrolled at least half time.
Freshman (0-27 credit hours completed) - $5500
Sophomore (28-57 credit hours completed) - $6500
Juniors/Seniors (58+ credit hours completed) - $7500
Independent students are able to borrow a higher maximum loan amount. In order for the FAFSA to determine you are an eligible independent student, you must meet the following guidelines: https://studentaid.ed.gov/sa/fafsa/filling-out/dependency.