Council For Christian Colleges & Universities
Concordia is proud to be a member of The Council for Christian Colleges & Universities (CCCU). This higher education association of more than 180 Christian institutions around the world recognizes Christ-centered higher education institutions that promote excellent academic scholarship and service to biblical truth.
Institutions of Excellence
Though the institutions chosen for membership in the CCCU are very different, they all share three basic commitments.
The first is a commitment to integrating the Holy Scriptures into all aspects of life at the university. At Concordia, our faith is evident across campus, from classrooms to dorms to locker rooms to the cafeteria; you will find Christ wherever you are here, and can openly and freely practice your faith in everything you do.
The second commitment is a promise to foster Christian virtues such as love, courage and humility. Our Concordia community provides you with a supportive, faith-filled environment where grace is freely given and received. Here, you are supported and developed morally and spiritually, as well as academically.
The final commitment that all institutions in the CCCU share is a dedication to Gospel witness. At Concordia, we strive to equip you to fulfill a higher purpose in your career and throughout your various vocations in life, so that you can lead and serve in the church and world. You will learn to navigate the intersection of faith and culture and live and lead as a follower of Christ, so you can make a difference in the world.
Benefits of CCCU Membership
Concordia's partnership with the CCCU benefits our students and their families in several ways. First, because all members of the CCCU adhere to the same commitments of Christ-centered education, you know that you're choosing a school that cares deeply about you as a whole person, spiritually, personally and academically. You can continue to grow in your faith and your academic pursuits so you can reach the full potential that God has prepared for you.
CCCU institutions provide top-tier academics through rigorous class work and hands-on learning experiences filtered through a Christian lens. In addition, the faculty and staff at Concordia are dedicated to providing the highest level of professional discipline and current research in their respective fields.
Outside the classroom, the CCCU offers access to the BestSemester program which gives you opportunities to explore the world through 10 exciting, off-campus learning experiences. For example, you can immerse yourself in the U.S. government through the American Studies Program in Washington, D.C., or experience different cultures during visits to Uganda, Australia, Costa Rica, Jordan or Northern Ireland. Or, you can dive into the business of music in Nashville or the film industry in Los Angeles, and learn to love God with "all your mind" while studying in Oxford, England. Whatever your passion, you can expand and enrich your college experience through the BestSemester program.
Finally, according to a recent study, alumni from CCCU institutions pay back their college loans at a higher rate than the national average, are more likely to participate in community service and often choose careers in human services, serving others and giving back to their communities, their families and the world.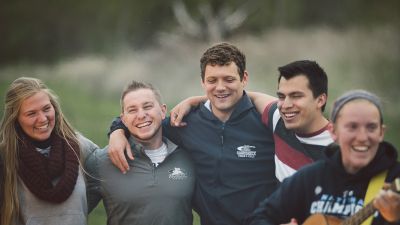 A Private Education With Value(s)
You'll find a more meaningful college experience at Concordia, where you'll be part of a supportive campus community as you study your passions and prepare to make a positive impact in the world. Through generous scholarships and financial aid packages, your tuition at Concordia will be similar to what you will find at a large public university.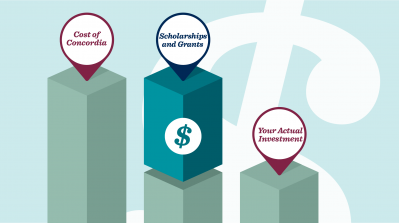 Academic and Performance Scholarships Available
There are a number of scholarships available for you at Concordia. Whether you're participating in one of our performance areas, on one of the 22 athletic teams or for your academic achievements and faith background.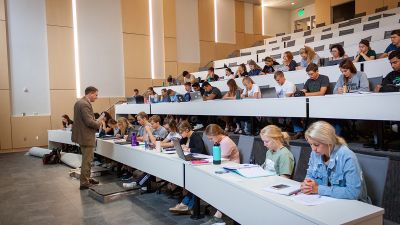 A Distinctive Lutheran Education
At Concordia, we promise to equip you with a higher education that intersects learning opportunities, individual development and faith in Christ, in order to bring depth and meaning to your college experience. Our Promises of a Lutheran Education ensure that you will graduate not only with a set of skills and a degree, but also a sense of Christian vocation and purpose for the future.