Acts 2 Commission
The mission of the Concordia University, Nebraska Acts 2 Commission is to grow in loving life together with the many and different divinely valued people in the Concordia University, Nebraska community. Led by God's Word, moved by Christ's compassion and inspired by His Spirit, the Concordia community strives to live out our unity in Christ and his compassion for all people.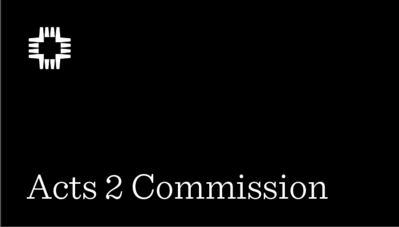 God's love for this world (John 3:16) breaks down dividing walls between people (Eph. 2:13–16). As God's children, Christians are loved to love their many and different neighbors as God loves them (Luke 10:25–37).
Fulfilling the Mission and Vision
The priority of the Concordia University, Nebraska Acts 2 Commission is to establish biblical, academic and social efforts to continue to love and support one another from varied racial and ethnic backgrounds. The Commission will research and implement opportunities for Concordia students, faculty and staff to excel as Christians in understanding and valuing people of all races, cultures and ethnicities even as God their Creator, Redeemer and Sanctifier does.
The Acts 2 Commission will seek to use Lutheran Christian distinctives from God's Word to fulfill its mission and vision in alignment with Concordia's overall mission, vision and Promises. These Lutheran Christian distinctives for learning and action regarding the celebration of the vast cultures of His world will include all human beings created in the image of God and yet fallen in sin.
The responsibility from God-given freedom in Christ permits each of us to serve our neighbor above ourselves and to employ God's two strategies teaching for using people and natural law to bring order to our imperfect earthly life, salvation through Christ's forgiveness in eternal life and the biblical understanding of vocational callings in life to express Christ's love for all of humanity.
Next Steps
At Concordia, we strive to be a community where we embrace each other for who God made us to be, recognizing that our identity is found in Jesus Christ. God "desires all men to be saved and to come to the knowledge of the truth. For there is one God, and there is one mediator between God and men, the man Christ Jesus, who gave himself as a ransom for all …" (1 Tim. 2:4-6). The Acts 2 Commission is committed to taking the necessary steps to enhance the work that is already being done by many faculty and staff here at Concordia University, Nebraska. With the help of our students and alums, it is our job to fulfill this mission through our Promises of a Lutheran Education, meeting our goals and fulfilling our vision.
Concordia recognizes that worldly sinfulness, including racism, is in direct conflict with the Word of God, and promises to acknowledge and speak out against racism. Racism stands in opposition to the Gospel revealed in Scripture, according to which God has acquired the forgiveness of sins for all people by declaring for Christ's sake that the world has been forgiven. God's love for the world is indiscriminate and embraces people of all cultures.
Current Goals for the Commission
Assess and Strengthen Curriculum and Instruction
Objective 1: Assess current curriculum and instruction to affirm God's wonders through the rich cultures of His world, equipping students to be faithful witnesses domestically and abroad.
Objective 2: Support and encourage faculty as they continue to utilize dimensions and perspectives into their course offerings as ways to navigate the intersection of faith and culture.
Retention and Graduations Rates for Diverse Students
Objective 1: Monitor and assess the graduation rate for students for all students with a sensitivity for those from various ethnic populations and implement improvements if needed.
Objective 2: Monitor and assess retention strategies for various ethnic populations of students through the examination of the different variables involved and develop as well as locate helpful resources as needed.
Cultural Development and Recruitment of Ethnically Diverse Staff and Faculty
Objective 1: Continuously develop and implement cultural care to increase the knowledge, awareness, and skills for equipping faculty and staff in their work with Concordia's growing ethnically varied community of students and His world in which graduates will live out their vocations.
Objective 2: Prayerfully consider increasing recruitment and retention of racially and ethnically diverse faculty, staff and various university partners at all levels of the University to reflect the population of our nation and enhance Concordia's enrichment of Christian worldviews.
Cultural Development and Recruitment of Ethnically Diverse Students
Objective 1: Continuously develop and implement cultural interactive activities for students to increase their knowledge, awareness, and skills for their life together within our ethnically varied community of students and His world in which students will live out their vocations.
Objective 2: Increase the recruitment of racially and ethnically varied students representing the population areas served by Concordia University, Nebraska and higher education offerings for serving in varied communities.
Objective 3: Invite Concordia alumni who have experience and expertise in among various cultures to interact with current students to engage them in preparing for cultural interaction in their future vocations.
Enhance Campus Diversity Attitudes and Activities
Objective 1: Review student campus activities to identify gaps in racial and ethnic awareness while also enhancing and embracing the ethnically varied backgrounds of students represented within such activities.
Objective 2: Provide ongoing emphasis to regularly recognize academic, spiritual, artistic and athletic contributions of ethnically different scholars, theologians, musicians, artists, thespians, athletes and others.
Objective 3: Encourage student-developed and led observances, activities, servant events for cultural and ethnic interaction on campus.