Serving a Higher Purpose
Published by Concordia University, Nebraska 2 years ago on Mon, Jul 1, 2019 11:25 AM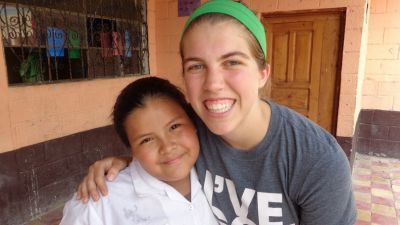 Angie Steinbacher '17 has always had a heart for service. When she was young, she asked people not to bring presents to her birthday, but instead to bring donations she could take to charity to help others.
Through Concordia, the elementary education major found a way to put that servant's heart to use with international mission trips. "I had never been on an international mission trip before Concordia," Steinbacher says. "My sophomore year I went to Guatemala and after that trip some team members and I decided we wanted to go back and to experience that mission again."
Steinbacher and her team helped set up a recurring mission trip to Amatitlán, Guatemala through the Central American Lutheran Mission Society (CALMS). The trip allows Concordia students, faculty and staff the opportunity to lead Bible story lessons and share the story of Jesus and the Gospel through crafts and music.
In addition to several trips to Guatemala, Steinbacher has also spent time in mission to China, teaching English, and she completed her student teaching overseas in Vietnam.
"I think I've been able to make an impact in my missions, but there's no credit to me," says Steinbacher. "It's all about what God is doing. That's been probably my biggest learning experience while doing missions is that we're only part of the big mission. I'm just one person among many who will touch their lives and if I planted a seed then that's awesome. And I'm just so grateful to see God working in their lives."
Steinbacher's service won't end after the missions are over, either. She is going to defer her teaching career for a few years to volunteer at a home for children with physical disabilities in Shanghai through the Mission of Christ Network. "I like to live like every day is a mission trip," she says. "You don't need to go overseas to be in mission for the Lord. I realized that when you're on a mission trip, you're kind of out of your comfort zone and that's how we should live each day: going out of our way to reach other people. If we stretch our comfort zone that's a good thing."
When you Answer the Call, you support a Lutheran, Christ-centered education that helps students like Angie find their purpose. Make your gift today.