Exploration and Inquiry
Published by Concordia University, Nebraska 2 years ago on Mon, Jul 1, 2019 11:23 AM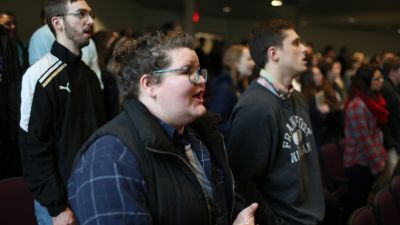 Shannon O'Brien '18 earned a Director of Christian Education diploma from Concordia. She is a bubbly, lively young woman who can (and will) strike up a conversation with anyone. Her laugh is loud and joyous, and she is never afraid to proclaim her love for Jesus.
Those aspects of O'Brien's personality made her hesitant to travel outside the country, however. "I thought traveling abroad was not for me," says O'Brien. "I try to be very intentional about being relational, which I thought I couldn't do without speaking the language." O'Brien couldn't picture herself being able to form meaningful relationships or help people in international ministry without being able to communicate or understand each other. So she decided to stick to the United States.
Then, God provided an opportunity that O'Brien couldn't ignore. She needed science credit to complete her general education requirements and wanted to try a class with Assistant Professor of Biology Dr. Jennifer Fruend, with whom she'd gone on a mission trip to Alaska.
"I just loved her passion and energy for life that oozed over into her teaching," says O'Brien. "I looked for the classes she taught and saw a Costa Rica study tour."
The study tour was an ecology class that explored the different habitats of Costa Rica and the relationships of living organisms, including humans, on those regions. Because she didn't speak Spanish, O'Brien was hesitant, but decided to make a leap of faith, in part because other people on the trip could help her navigate the language barrier. "I figured I would never get an opportunity like this again," she says.
O'Brien discovered that the people of Costa Rica were very patient with her. "Coming into the trip, I was so nervous about not being able to communicate with people there," she says. "But everyone was so friendly! One phrase that is used often is 'pura vida,' which translates to pure life, but can also mean a variety of different things, from a greeting to a synonym for excellent. It's used everywhere, and it's really a motto for life in Costa Rica: take things easy."
O'Brien found not only a totally different culture but an affirmation of her faith. "One of the most eye-opening parts of the trip is that Christ's love can speak through any language barriers," she says. "I was blessed to talk with people about Christ at each stop we took. It was as simple as discussing a cross necklace or sharing a guitar and playing worship music."
Because of her experience in Costa Rica, O'Brien says she is excited to continue exploring the wider world through mission trips. "When you spend time with people who were once strangers, you quickly see God planned them to be influential people in your life."
When you Answer the Call, you support a Lutheran, Christ-centered education that helps students like Shannon explore the world and our place in it. Make your gift today.