Community of Learners
Published by Concordia University, Nebraska 2 years ago on Mon, Jul 1, 2019 11:18 AM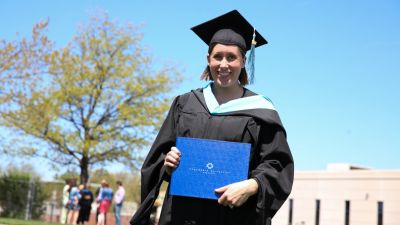 Before her graduation ceremony, Robyn Foye GR '17 had never met any of her professors. She'd never met any of her classmates. But that didn't stop her from making lasting friendships and becoming part of an alumni network that stretches across the world.
Foye was teaching kindergarten in Wisconsin when she decided to go back to school to pursue her reading specialist license. After a little research, Foye found Concordia University, Nebraska's online program, which seemed like a good fit, since the family had a young son at home and Robyn didn't want to miss weekends and evenings with him. She soon discovered that Concordia's online program was more than just convenient, however.
"One of the most valuable and encouraging things about this program didn't have anything to do with education," Foye says. "The biblical encouragement from professors, open Christian conversation and Christian principles highlighted as part of course material was invaluable."
While earning her degree, Foye transitioned from classroom teacher to children's ministry director at her church. "I was in the thick of learning how to work with adults, volunteers, children outside of school classrooms. Of course, the timing was all God, but the things I was learning in my courses were immediately applicable and beneficial in a perfect time of need for that guidance."
And though her classes were all online, she was still able to find the community that is a large part of any Concordia student's experience.
"The small and consistent cohort size and people made me extremely thankful. It was nice to have familiar names with each course," says Foye. "Even though it was an online program, it allowed me to get to know and work with my fellow classmates. It became a tight-knit and trusting community of learners."
"Having attended a secular, state university for my undergrad, I was surprised at how much the Lord's sovereignty was woven into everything I've experienced with Concordia Nebraska," Foye concludes. "I didn't expect that in the capacity I experienced it in, and I'm extremely grateful."
When you Answer the Call, you support a Lutheran, Christ-centered education that helps students like Robyn find a community of learners excelling together. Make your gift today.