No breakpoint
Breakpoint
sm
Breakpoint
md
Breakpoint
mlg
Breakpoint
lg
Breakpoint
xl
Breakpoint
2xl
Alumni Art Exhibition
You are formally invited back to campus for our 2021 Homecoming celebrations! As a part of this year's festivities, we are excited to host an Alumni Art Exhibition in the Marxhausen Art Gallery Oct. 1 - Nov. 5. There will be opportunities to connect with emeriti and current faculty members and reconnect with classmates.
This year is also very special because as part of Homecoming, you are invited to join in the Saturday evening banquet celebration where Prof. William Wolfram will be honored with the Lifetime Service Award.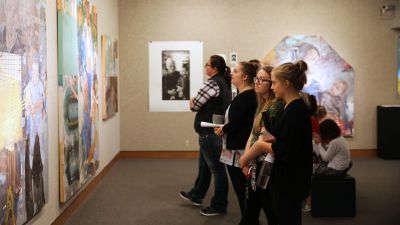 Alumni Art Exhibition Details
Any Concordia alums who graduated with a bachelor's degree in Art (major or minor), are welcome to submit for the exhibition that will be on display Oct. 1 - Nov. 5.

Alums will be provided a 1' x 1' space for any medium of artwork.

Please make sure to include your name (First, Maiden, Last), the year you graduated and the city and state where you reside. Be sure to also include the title of the piece, year completed and medium.

Please ensure your work arrives on campus by Aug. 15. You may ship your piece to:
Concordia University, Nebraska - Marxhausen Art Gallery
Attn: Prof. James Bockelman
800 N. Columbia Ave., Seward, NE 68434
Thank you for considering this opportunity to help us celebrate the incredible work and legacy that the Concordia University, Nebraska Art Department has had with you and the students yet to come!

If you have any additional questions concerning the Alumni Art Exhibition please contact Jennifer Furr(Jennifer.furr@cune.edu) or James Bockelman (james.bockelman@cune.edu).