Bulldog Family Legacy
The Bulldog Family Legacy program is an outreach to parents offering help, guidance and support as we undertake the all-important job of Christian parenting.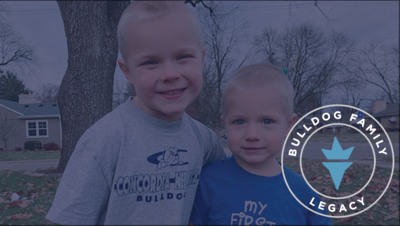 Concordia University, Nebraska has helped prepare its alumni for the many vocations of their lives. Now Concordia is here to help as they tackle the all-important job of Christian parenting.
The Bulldog Family Legacy program has been designed to share the four Promises of a Lutheran Education with the descendants of Concordia alumni. Through this program, alumni and their children will be closely connected to Concordia through the promises of Community, Inquiry, Purpose, and Wisdom.
At 6 different milestone ages, starting at birth and ending after high school, Concordia will send your child a Bulldog package. This fun package will be filled with Concordia items, invitations to various events, educational materials, and Spiritual guidance.
Additionally, Legacy families will be invited to take part in Regional fellowship gatherings and service opportunities. Each year, Legacy families are invited to come to Concordia's Homecoming to take part in the activities along with a special gathering just for participating families.
The Bulldog Family Legacy program will be a blessing to alumni, their children, and the whole Concordia community as we strive to continue to serve one another in Christian love and in sharing the Good News of Jesus to all we know.
Please email us at alumni@cune.edu with any questions or concerns about the Legacy program.