New Online Courses
NEW! Concordia University, Nebraska is now offering online options for high school students looking to earn college credit! These asynchronous, 16-week courses give you maximum flexibility for your schedule and location and provide authentic access to higher education content and rigor—all at a fraction of the traditional undergraduate cost! Explore this page for current options, and we will be adding courses to the online catalog each semester. We are honored to provide this educational opportunity to equip students for lives of learning, service, and leadership.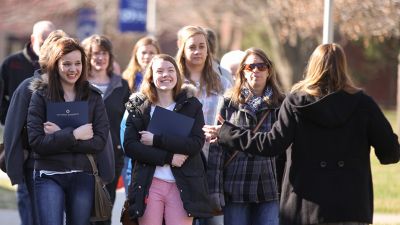 Dual Credit Online Courses
Financial Accounting
An introduction to the theory, language, and practice of accounting. Major components of the primary financial statements are examined. Emphasis on the uses of financial information.
3


credits
Computer Programming I
The development of skill in translating problems into algorithms and implementing these algorithms into a high- level programming language. An emphasis will be placed on good programming style including structured programming techniques. An overview of the organization and operation of a computer system will be given.
3


credits
Introduction to Public Health
This course is designed to introduce the basic elements of public health including identifying and addressing population health challenges, determinants of health, and an overview of the health system. Additionally, this course will provide a history of public health, an overview of the core disciplines, and current events and issues in the field.
2


credits
Priority Registration deadline for Spring 2022 is Wednesday, 12/15/21, at 11:30p.
Final registration closes Wednesday, 1/5/22, at 11:30p. ($10/credit additional fee.)
Spring 2022 courses begin on Monday, January 10th!
Juniors and seniors in high school with a 3.0 GPA or higher are eligible to apply.
Registration Process
Complete an online dual credit application
If you have not already applied to Concordia as a dual credit or undergraduate student, your first step is to create an account and apply. If you have previously completed any CUNE application, you may proceed to Step 2.
Create an Account and Apply Now
Register for Courses
Click on the link below to register for online courses only. You will need to have payment ready at the time of registration ($90/credit tuition plus registration fee). Please enter STUDENT name at checkout in all fields requesting a name.
Registration FAQs
There were no courses listed in the application. How do I register for classes?

The application is separate from registration, but this means you're likely done with Step 1! To register for courses, click on the link below Step 2: it will take you to an EventBrite page where you will select your course(s) and proceed to checkout and payment. You will get an email confirmation after registration is complete.
I am parent/guardian and accidentally entered my name instead of my child's for the course. How can I get that fixed?

Please email dualcredit@cune.edu with your name, student's name, and the school your student attends. We can fix it manually and there's nothing else you'll need to do!
What if my account is locked and I can't log back in to apply?

Good news! You likely took dual credit in a previous year and do not need to re-apply. The login is only used to collect student demographic information when they first start and you will no longer need it. You may proceed to Step 2 and Register for Courses.