Public health and fitness is a dynamic, far-reaching and growing field. A degree in public health and fitness prepares you to develop and advocate for effective health programs, where you can implement policies that enhance the health of individuals, groups and communities.
While earning your degree in public health and fitness at Concordia, you will participate in collaborative projects with local organizations. Practicum and internship experiences help you further your knowledge and skills in real-world settings. Opportunities for local, national and international service learning and global-multicultural experiences also await.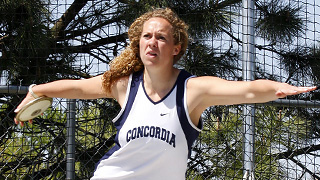 100%
of students have been accepted to graduate schools.
Experience Concordia's HHP Department
Public Health and Fitness
Sample Academic Outcomes
Careers
Community Health Educator
Wellness Coordinator
Wellness Coordinator
Assistant Director of Blood Bank
Graduate Schools
Creighton University
University Of Nebraska Medical School
Regis University
College of St. Mary
Concordia University
Midwestern University
Clarkson College
Rockhurst University
Employed in full-time field-related area 6 months post graduation
Go on to grad school each year
Public Health and Fitness
Faculty
Walz Human Performance Complex
The Walz Human Performance Complex includes a state-of-the-art human performance lab, field house, arena, weight room, and athletic training room. It also houses computer labs, classrooms and a student resource library to give you all the tools you need to succeed.
Community Outreach
Health and Human Performance department students are active as coaches in local schools and city recreation leagues and as aides in physical therapy at the local hospital and clinic. They also organize community service projects, such as the Halloween Fun Night in David Dorm.
Global Health
Each year, HHP students travel to Guatemala, Belize, or other international destinations for global health mission trips, providing medical care to under-served patients and communities.
Special Olympics
Several classes offer the opportunity for you to be involved with the Nebraska Special Olympics, including coaching the Seward teams, practicing with the athletes and volunteering to help run a component of competition.
Public Health and Fitness
Sample Course Schedule
Semester 1
HHP

100

Lifetime Wellness

A course designed to provide an understanding of the values of wellness in our contemporary society and to aid the student in developing a personalized wellness program for optimal health.

HHP

182

First Aid and CPR

Safety, prevention of injuries, and first aid and CPR procedures as outlined by the American Red Cross.

Half semester.

HHP

144

Recreational Sports

Half semester. Includes horseshoes, bocce ball, eclipse ball and other activities.

HHP

270

Human Performance Laboratory Techniques

This course introduces students to the function and use of a variety of human performance equipment. Topics will center on the application of the equipment in health and human performance.

GEN ED

General Education Courses
Semester 2
HHP

275

Introduction to Public Health

This course is designed to introduce the basic elements of public health including identifying and addressing population health challenges, determinants of health, and an overview of the health system. Additionally, this course will provide a history of public health, an overview of the core disciplines, and current events and issues in the field.

HHP

279

Select Topics in Health

A course in the health topics series designed to develop and expand knowledge and skill to understand and address contemporary issues in consumer health, environmental health, violence and injury prevention and other select topics. Prerequisite: HHP 100.

CTA

281

Business Communication

See Bus 281.

GEN Ed

General Education Courses
Semester 3
HHP

312

Exercise Prescription

This course is designed to assist students in the identification, analysis, and implementation of exercise protocols that are appropriate for the specific needs of a variety of individuals. The special needs of those exercising in varying environments will also be covered.

HHP

385

Physiology of Exercise

A course designed to give instruction in the physical processes of the body and how they relate to physical exercise. Applications will be made to areas of teaching, coaching, and conditioning of the athlete.

HHP

290

Health Psychology

Health Psychology is the study of how biology, behavior, and social context influence health and illness. The course will examine the contributions of psychological research to the understanding, prevention, and treatment of a variety of health concerns. The biopsychosocial–spiritual model will be emphasized, which entails the study of how social, emotional, behavioral, biological, and spiritual factors influence health. The specific topics may include injury, stress, pain management, addictions, patient– physician/practitioner relations, and chronic illnesses such as Alzheimer's, diabetes, and AIDS.

GEN ED/Minor

General Education/Minor Courses
Semester 4
HHP

281

Health Topics: Drug Education

A course in the health topics series designed to develop and expand knowledge and skill to understand and address the issues of drug/substance use, misuse and abuse.

A study of nutrients, their chemical structures, digestion, absorption and utilization in the body. The roles of nutrients, recommended allowances, their interactions and the results of deficiencies.

Bio

243

Elements of Human Anatomy and Physiology

Lecture 3, Lab. 2. A study of the human body, its structure and function. Course will include introduction to the microscopic and gross anatomy of the body, a survey of each body system and the homeostatic mechanisms of the body.

A survey of community health education and promotion including an examination of the nature, extent and contributing factors of major community health issues and problems. The purpose, function, organization and administration of health services at the local, state and federal levels also will be examined.

GEN ED/Minor

General Education/Minor Courses
Semester 5
HHP

284

Health Topics: Stress Management

A course in the health topics series designed to develop and expand knowledge and skill in comprehensive stress management. Strategies and techniques for the individual and the health educator will be presented.

HHP

425

Health Policy and Management

This course presents an overview of health policymaking and describes healthcare policy in the US with emphasis on Medicare, Medicaid, and CHIP. Emphasis will also be placed on management and communication strategies important to public health professionals, the roles of state and federal agencies in healthcare as well as the ethical perspectives on health policy and individual and population rights. An overview of community health programs, health disparities and a comparative analysis of health care in the United States as compared to other countries will be discussed along with an analysis of relevant legislation and current issues.

Discussion of disease process and ill–health. Emphasis on epidemiology, prevention, treatment, and the understanding of the etiology of communicable and non–communicable diseases.

HHP

486

Critical Issues in Health

Social, medical, and/or legal aspects of current critical issues in health

GEN ED/Minor

General Education/Minor Courses
Semester 6
HHP

386

Adult and Senior Health

This course is designed to develop and expand knowledge and skill to understand and address contemporary health issues in adults and seniors with special attention given to lifespan health and aging, including age-correlated conditions and diseases.

HHP

480

Health and Human Sexuality

The study of human sexuality from a holistic health perspective. Emphasis will be placed on the biological, emotional, sociological, and behavioral factors concerning human sexuality.

HHP

488

Health Promotion Programming

This course is designed to provide an overview of the skills and knowledge necessary to provide leadership in the designing, implementation and evaluation of public, community and worksite health promotion programs.

GEN ED/Minor

General Education/Minor Courses
Semester 7
HHP

389

Senior Seminar in Health

A capstone course that allows students to integrate knowledge, experience and research in the exploration of professional issues and trends in health education and promotion.

A study of human movement. Attention is given to the anatomy of muscles, bones, joints. Application of mechanical principles to the movement of the human organism.

HHP

495

Legal Aspects of Exercise, Recreation, and Sports

Legal concepts and principles related to the administration, instruction, training and coaching of exercise, recreation and sport. Issues regarding personnel, facilities, equipment, transportation, medical aspects, liability, age and gender will be examined.

GEN ED/Minor

General Education/Minor Courses
Semester 8
HHP

398

Internship in Community Health

A planned, supervised experience which integrates knowledge and practical experience in a setting appropriate to the student's professional goals.

HHP

482

Applied Epidemiology

The study and application of epidemiology and health data analysis in the public health setting. Data analysis and biostatistics skills, tools, and techniques are employed.

GEN ED/Minor

General Education/Minor Courses