The Importance of Management and Organization Communication in the Workplace
Published by Concordia University, Nebraska 1 year ago on Thu, Mar 17, 2022 12:05 PM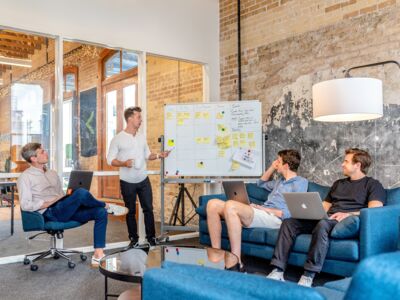 Communication networks include the horizontal and vertical channels. First, horizontal communication often includes that less formal "water cooler talk". This is communication between employees at the same level, where neither of them is the boss. A simple conversation between co-workers could be an example of horizontal communication. In contrast, vertical communication can go upward and downward; upward communication is employee to supervisor whereas downward is supervisor to employee. Most formal networks are designed by management. An example of this could be a formal meeting set up between a sales manager and those he is supervising.
Management and organization communication jobs include public relations, marketing, project management, crisis communication management, and human resources. Organizational communication can look broadly at the culture of a company or business. It includes everything from the employee experience to collaboration and communication within the department, to improving overall employee communication.
As previously mentioned, organizational communication can also include project management. The Project Management Institute offers the PMP (Project Management Professional) certification. It also offers several free online courses for those interested in this career. Those with PMP certification earn approximately 23% more than those without.
The job opportunities are great with project management. That being said, communication is one of the top soft skills needed. The website projectmanager.com cites interpersonal skills, communication skills, leadership skills, and negotiation skills all as project management skills.
So why is management and organization communication so important? Now, more than ever, companies need a communication strategy both for internal audience and external audiences. It is crucial that effective communication starts at the top with senior management and flows through the company. It is also crucial that messages communicated are and aligned with a company's mission, vision, and values; and that a consistent message is communicated to the public.
Be a part of the next class of business communicators.
According to the Society for Human Resources Management (SHRM), a survey claimed an average loss per year, per company, of $62.4 million due to poor communication. This survey included 400 companies, each with at least 100,000 employees. However, there seems to be a lack communication in organizations of all sizes. Smaller organizations could lose an average of $420,000 a year for this same reason. This loss of money shows why it is important for project managers, senior management, and all employees to learn to use effective communication in an organizational setting.
So how does an organization build a communication plan? First, as mentioned above, consistency of brand is important when sharing information, both internally as well as externally. This means there must also be a strong employment brand. The importance of internal communication is often overlooked. Feedback should be given to employees in timely and effective ways.
Managers need to be prepared to be effective leaders, which always includes effective communication, but in particular, listening is key. Input should be gathered from every branch, whether employees, senior management, project managers, or human resources (HR). According to www.listen.org, the best listeners make the best leaders!
Whether one goes into HR, Project Management, or Organizational Communication, effective communication skills are key. Employees need to know how to write clearly, speak clearly, and work with others both interpersonally and on teams.
According to the National Association of Colleges and Employers, the ability to work in a team, verbal communication skills, and written communication skills were among the top ten skills employers seek in an employee. Ability to work on a team ranked the number one employers seek, with 81% of respondents indicating it was important (naceweb.com, 2021),.
According to the National Communication Association (natcom.org), a degree in communication, organizational communication, or business communication is a great way to get into a variety of careers. These careers include advertising, marketing, electronic media, journalism, publishing, public information/development, organizational affairs, and government and political affairs. It is also a great entry point for Human Resources and Project Management.
Related Articles