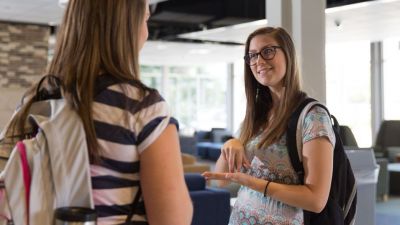 The American Sign Language (ASL) minor at Concordia University, Nebraska develops foundational receptive and expressive skills in American Sign Language and introduces students to the study of deaf culture. Through techniques including immersion, community interaction, research, lab activities and use of digital video technology, students gain documented proficiency in ASL, validity within the deaf community and networking within the professional community.
American Sign Language: Program Goals
Foster student cultural and cross-cultural awareness and communicative competence in ASL
Equip students with specific language skills in teaching, ministering, or working in cross-cultural contexts that require ASL
Aid students in finding contexts and experiences in which they can learn to appreciate and participate in deaf culture
1 Recent graduates attending graduate school or employed within six months of graduation.