A degree in accounting gives you the education to succeed at just about anything in the business world. Get the foundation you need to go on and become a CPA or a partner in an accounting firm. Pursue a career in finance or corporate management, work in government, or even become an entrepreneur.
At Concordia, you will learn to gather, record, analyze and interpret financial information about an organization and assess financial performance and risks.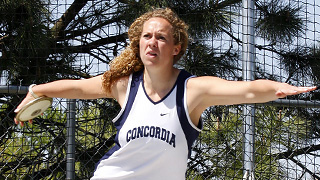 Accounting
Sample Academic Outcomes
Careers
Staff Accountant
Accountant
Accounts Receivable
Financial Analyst
Plant Manager
Business Manager
Graduate Schools
University of Texas-Austin
University of Illinois-Urbana-Champaign
University of Southern California
The Ohio State University
Accounting
Student and Alumni Reviews
Concordia University is focused on providing an exceptional experience and we ask our students to provide feedback on all aspects of their student experience. The ratings and comments below are from our annual survey of all graduating seniors regarding their experience in the Accounting program, the academic department and the university.
Career and Graduate Fair
Every year, business club members host businesses and employers at a career and graduate fair. Implement and develop your networking, communication and presentation skills and in the process gain valuable professional insights.
Phi Beta Lambda
Phi Beta Lambda is Concordia's business club, with membership open to anyone with an interest in business, both majors and non-majors. Members develop leadership, teamwork and communication skills through active participation with fellow students, the community and the church.
10:31 Coffee
The 10:31 Coffee Shop opened in 2008 in Janzow Campus Center. The business is run entirely by Phi Beta Lambda students. Members manage the business, inventory, finances, and all the components that come with owning and operating a small business.
Internships
Internships are essential to success for business students at Concordia. Students have interned throughout the United States at places such as the Mayo Clinic, Koch Industries and The Carlson Marketing Group. There are also plentiful opportunities to intern close to home in Seward and Lincoln.
Accounting
Sample Course Schedule
Semester 1
Econ

101

Principles of Macroeconomics*

A study of the performance of the American economy. Includes an introduction to national income, employment, fiscal policy, money and monetary policy. In addition, topics of economic stability and analysis of economic growth are covered.

Math

122

Introduction to Statistics

The fundamentals of elementary statistics, data collection and analysis, probability, distributions, sampling, hypothesis testing, correlation and regression.

Bus

121

Financial Accounting

An introduction to the theory, language, and practice of accounting. Major components of the primary financial statements are examined. Emphasis on the uses of financial information.
Semester 2
Econ

102

Principles of Microeconomics*

Examination of the behavior of microeconomic units such as consumers, firms and industries. Includes analysis of the problems of monopoly, urbanization, income inequality and poverty. International economics and the world economy are discussed.

Bus

122

Managerial Accounting

An introductory course in managerial accounting. Topics include methods of costing, cost–price–volume relationships, flexible budgets, budget variances, capital budgeting decisions, cost allocations.
Semester 3
Bus

221

Intermediate Accounting I

An in-depth study of financial statements, accounting concepts and principles. Discussion of alternative theoretical views. Current professional pronouncements are examined and generally accepted positions defined.

Bus

281

Business Communication

The intense study of business writing and speaking using audience analysis. Implications for organizational communication and structure are considered. Major assignments include writing letters and reports for targeted audiences, analysis of organizational rhetoric as related to those products, self-presentation and audience analysis in interview situations, and editing skills.

Fundamentals of financial management. Policy, methods, institutions, and tools of financial management involved in financing the business organization.
Semester 4
Bus

222

Intermediate Accounting II

Continuation of Bus 221.

Provides students with a thorough appreciation for the benefits and pitfalls of executing a customer orientation. Using market segmentation; management of mature products and introduction of new products. Developing long-term relationships with customers. Identifying and analyzing possibilities in consumer and industrial markets. Management of the marketing mix including product planning, distribution institutions and activities, promotion and pricing.

Bus

325

Accounting and Information Systems

Survey of the information systems discipline including accounting systems, information technology, telecommunications and networks, systems design and development and security/privacy issues. Improving organizational effectiveness through appropriate use of information system resources.

The course is designed to introduce the student to the rules of law under which the business world operates. It provides the student with a basic understanding of the legal rights and duties which arise from common business transactions. Topics include contracts, personal property, real property, insurance, estates and agency
Semester 5
Bus

343

Operations Management

A functional study of operational concepts as applied to managing the production of goods and services within a variety of environments such as profit, nonprofit, service and manufacturing-oriented organizations.

Examination of present federal tax laws with reference to accounting principles and procedures applied to the preparation of tax returns of individual and fiduciaries. Topics include gross income, capital gains and losses, non-business deductions, inventories and bad debts.

Electives

Electives Courses
Semester 6
Bus

351

Human Resources Management

Knowledge and skill-building for working with people in a business or organization. Business ethics as they relate to Christian principles. Theory combined with applications from psychology and interpersonal communications serve as the focal point of the course. Participants will learn to relate more effectively to others in the work environment.

Determination of product cost, effective cost control. Use of costs in setting budgets. Additional topics include process and job–order costing and inventory control.

Bus

323

Financial Statement Analysis and Decision Making

Application of concepts from introductory accounting and finance as well as a more thorough investigation of selected topics such as ratio analysis, capital budgeting, dividend policy, leverage and acquisition valuation.

Bus

345

Management Science

Introduction to management science, including modeling, linear programming, integer programming, network analysis, waiting line theory, simulation, decision analysis, and inventory models.
Semester 7
Methods of conducting various audits. Principles and procedures used to determine accuracy and reliability of financial records. Preparation of the audit report. The auditor's certificate.

Bus

443

Organizational Behavior

A study of human behavior in organizational settings, the interface between human behavior and the organization, and the organization itself. Topics include organizational culture, diversity, gender communication, rewards and punishment, work place design, work teams, conflict management, leadership, total quality management and organizational development.

Students will take an internship as part of their program of studies in business. Students should consult with the director of business and the Office of Career Services to obtain the undergraduate internship/practicum packet and review the required process. May be repeated once. P/F
Semester 8
A study of Christian ethics and practice in relationship to the conduct of business. Case studies are utilized to give skills in problem analysis and the application of the Christian vision.

Bus

446

Strategic Management

Designed to give the student practice in integrating the numerous theory courses in all phases of business management. In the role of the top manager, responsible for the total enterprise, the student applies these theories to the solution of problems in practical business cases. Decisions are made to direct the operation of a simulated business in a competitive market.

Bus

322

Advanced Accounting

Accounting theory and practice applied to business combinations, multinational accounting, governmental accounting, not-for-profit accounting, partnerships, trusts and estates.

Electives

Elective Courses