Physician Practice Management- An option for health administration professionals
Is your healthcare leadership tough? Do you aspire to lead in the healthcare setting? Are you passionate about helping others? A quick learner? And volunteer first? All sound familiar? Concordia at Nebraska is quite possibly the link to you, your future and a career in healthcare.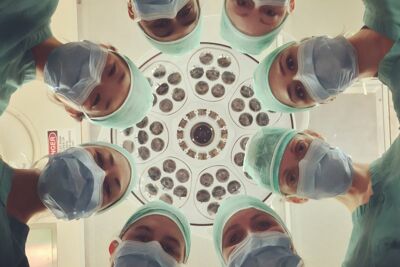 Medical management does not exist if not for a need. Concordia at Nebraska is here to meet need with purpose and skill for the new phases of healthcare, helping you to reach your career as a physician practice manager. The physician practice manager is employed to lead, direct, organize and coordinate medical care for patients. Management in any setting is a selfless role. It requires an individual to have a willingness to see beyond themselves and develop rapports with care providers and patients that result in the best possible healthcare outcomes for the patient. Sound like something that would interest you? Great! Then you're in the right place to develop a career path of Physician practice management.
The goal of most working professionals is to secure professional stability while working in a field that aligns interest with passion. Health care professionals tend to be a very passionate bunch, but even if your goal is different ask yourself, "What brings you here in pursuit of information on Physician Practice Management?" Goals for furthering education are instrumental in ensuring the correct path to embark upon. The information found here will get you that much closer to your path in Physician Practice Management. There are tons of different medical professions and some happen to work well in the clinical setting but not necessarily at the bedside of a patient.
Physician Practice Management happens to be one of those areas where day to day patient interaction is possible but not at the bedside. Where does physician practice management happen? Where there are patients, providers and a space for leading, directing, collaborating and coordinating patient care. The role of the physician practice manager usually exists in the inpatient (i.e., Hospital) or outpatient (i.e., Clinic) but can be present in any setting that requires medical care delivery for patients with the treating provider being a physician. Task can vary for the practice manager depending on the physician specialty (i.e., Primary care vs. oncology). Some tasks of the physician practice manager will include: conflict resolution, patient care follow up related to care, human resources management to include staff performance reviews, appraisal reviews, staff 1:1s, supply and inventory management, strategy and fiscal management and more.
What skills are needed to be a physician practice manager?
Emotional intelligence with the ability to engage others. Who's a good fit for this role? The professional that has the willingness to lead in addition to the required credentials. Usually, the physician practice manager will possess a bachelor's in business management or a bachelors or masters in a related healthcare field (i.e., BHA and/or MHA). The physician practice manager is a mid-level leadership role in healthcare management; meaning supervisors, department leads, and senior staff roles will report to the practice management.
What experience do I need before applying for a physician practice management role?
Like most mid- level leadership roles, physician practice managers should receive several years of staff experience, this makes for a more natural progression as well. What are the salary expectations for a physician practice manager? According to The Ladder, the national average is $79,322 ( The Ladder national salary average for physician practice mgr. ) which largely depends on geographics - refer to Physician Practice Manager Jobs | Now Hiring (carehealthjobs.com) for further exploration of salary expectations based on your geographical location. The experience is invaluable in the networking that a practice manager will have access to, from networking with auxiliary support staff to that of vendors to possibly discovering the next personal or professional path that you may have never considered in human resources or medical insurance. Networking also allows you to gain senior mentors to fortify interest, goals and knowledge as you embark on your journey. Many times, the skill of networking is underutilized; however, the role of the practice manager will be rich with opportunities to network on both the inpatient and outpatient settings bringing one in contact with other departments and interest. It is merely nature to align with a role that supports one's financial motivation along with the ability to impact healthcare in a business, marketing, quality and people.
Business in operation can be the day to day operational leading of a practice as well as the management of the supply chain resources (i.e., Staff and tangible materials) and communication with hospital administrators/ executives, staff and vendors that come along with carrying out the task of the practice managing. Marketing is the brand – professional, organizational, and personal in which you present as/ demonstrate the mission of your given organization and who you are and who you want to be perceived as. It is how you who will listen, respond and in action promote the business of both the organization and yourself. Within the business and marketing a standard to which these are carried out speaks to quality of your practice management actives. Additionally, quality is the measurement of indicators to demonstrate how the organization commits to supporting its patient populations health and wellness.
The practice manager is required to be organized, knowledgeable and innovative in keeping the staff engaged to carry forward organizational goals that impact Medicare reimbursement and other health care initiative that support business growth/ sustainability. Now that you are ready to embark on this path, let's talk numbers. Here you can find more on the Bachelors in healthcare administration and the masters of healthcare administration for Concordia at Nebraska along with resources on financial assistance at resources.
Be a part of the next class of Healthcare Administrators.