Leadership Qualities that Build Great Healthcare Leaders
Today's healthcare professionals face many challenges that force effective leaders to dig deep into their leadership toolbox. An effective leader will find ways to build credibility and promote synergy in the team.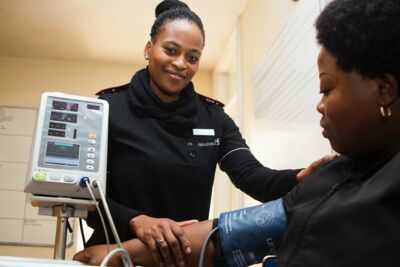 In these challenging times, strong healthcare leadership is needed to influence and guide healthcare workers through these turbulent times. Great leadership is demonstrated by setting the right example for employees to emulate. An effective leader should "walk the talk" and lead by example to gain respect in the workplace. To be a resilient leader in today's healthcare environment, a leader needs courage, teamwork, dedication to the staff, the healthcare system and the will to win. How do you get your leadership message to your direct reports? According to the Forbes article, How to Walk the Talk with Your Leadership Message, writing down your message turns your ideas into something tangible that can be referenced when projects fail or you are uncertain how to proceed. Communicate with employees about the message and the timeline to accomplish the goal. The employees can work with the leader to stay on track with the initiatives and follow the proposed plan by taking parts of your message and implementing the idea. By working the message in small increments, the change is managed with little resistance and burnout.
Along with having a strong message a healthcare leader's character and values are tested in the current pandemic crisis. Strong healthcare leaders are needed to guide communities, schools, and local leaders to share a plan that will overcome the health pandemic and return society to normal. A leader can change the trajectory of the team's mindset by his or her verbal or non-verbal communications. When a leader shows care and compassion for a team member, the followers will emulate the same values. In a time of crisis, a leader must be self-aware in order to manage emotions as the crisis evolves. A leader needs to empathize with understanding and acceptance toward the team.
Great leaders never stop learning and growing as a professional. To lead employees better, a leader needs to undergo personal development through books, courses, and programs to expand their skills and reassess their personal characteristics to become a better leader. Whether you are a leader or on the management pipeline working to a leadership position, good leaders need to stay current and relevant with leadership skills. Learning how to be a great leader will impact the achievement of your team, the organization, and the leader. To be an effective leader you must understand your own strengths and weakness, and goals. Great leaders need to learn to engage with the team by using open communication, encourage succession planning and provide feedback. The best way to achieve personal growth and expand your leadership skills is to enroll in a healthcare management program at Concordia University.
A rewarding career in healthcare is waiting for you at Concordia University, Nebraska. With the online bachelor's degree in healthcare management program, you'll discover online B.S.H.M. courses and learning opportunities designed to fit your busy schedule and give you organizational leadership skills specifically crafted for the healthcare industry. Concordia University Nebraska's online master's in healthcare administration program will give you the foundations in healthcare and business management, you will become a servant leader who is dedicated
to improving the health of individuals and communities. While you earn your MHA online, faculty who are experts in the field will teach you the various aspects of the healthcare delivery system. What innate qualities do leaders have that makes a good leader? Based on research by the Leading Effectively article In the Center for Creative Leadership, there are 10 characteristics that stand out as important leadership qualities.
Integrity
The first characteristic is integrity. Integrity is a vital trait in any top-level leader who is strategically guiding the ship amongst choppy waters. Research shows that this characteristic is an oversight in many organizations, and it should be emphasized on various leadership levels. Organizations need to reinforce integrity and honesty on all management levels as a necessary leadership trait.
Delegating
Delegating major responsibilities can be tricky as the purpose of delegating work is to not unload your work but give your employees the chance to learn and grow in their careers. Delegating promotes teamwork provides autonomy and builds trust among direct reports.
Communication
Another important leadership quality is effective communication skills. As a healthcare leader, the goal is to communicate in various mediums such as relaying information to encourage the team and using active listening skills. Active listening promotes trust, respect, and openness for employees to air their concerns on various team topics. Asking thought-provoking questions will open the door to a productive dialogue. Effective communication skills can impact the success of your business strategy. Learn how effective communication and better conversations can actually improve your organizational culture.
Self-awareness
Self-awareness is a trait that is developed by self-reflection and recognizing your own strengths and weakness to become an effective leader. For more soul searching, review the 4 aspects of self-awareness and how you can strengthen each component.
Gratitude
The qualities of a good leader are not always strategic. Sharing gratitude with your direct reports will make you a better leader and built self-efficiency, reduce stress and anxiety. An effective leader knows how to build relationships by showing gratitude in the workplace.
Learning Agility
A leader that is agile can navigate the ups and downs of healthcare and embrace uncertainty in a constantly changing healthcare environment. Leaders should be able to perform with high levels of critical thinking, and creative problem-solving techniques to generate new solutions.
Influence
Effective influencing can be a game-changer to align the team toward the objectives of a project, promote buy-in, and understand the big picture. Motivating direct reports through logic, emotion and using a synergy approach with teams to maximize cooperation and creative problem-solving is an inspiring trait for an effective leader.
Empathy
Empathy is linked with job engagement and is a critical part of emotional intelligence and leadership effectiveness. Leaders need to be willing to understand the cultural and social identity of the workforce and lead without any judgment. Leaders should harness the employee's diverse experiences to grow in the enterprising economy to develop a sense of inclusion to synergize the team and to achieve their highest potential.
Courage
Leaders understand courage is a key trait of a good leader. Leaders need to confront the problem rather than allowing the confusion and misinformation to spread, courage allows the leader to step up and rally the troops to move in the right direction. A workplace with a coaching culture has truth, courage, and increased psychological safety to promote problem-solving and creativity.
Respect
Giving employees respect on a daily basis will promote teamwork, defuse conflict and improve effectiveness. A leader in a health system must continually build a culture of respect to attract and retain high performers to leverage and influence the contributions of all their talents.
For more information about the Concordia University M.H.A Healthcare Administration program please follow these links.
Be a part of the next class of Healthcare Administrators.