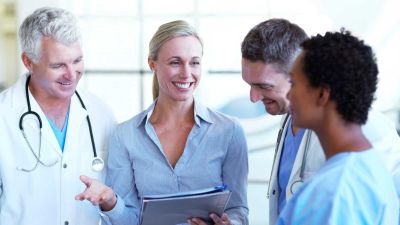 Prepare to be a leader in the complex and dynamic field of healthcare and transform the current healthcare delivery system with Concordia University, Nebraska's online master's in healthcare administration program. As you build a foundation in healthcare and business management, you will become a servant leader who is dedicated to improving the health of individuals and communities. While you earn your MHA online, faculty who are experts in the field will teach you the various aspects of the healthcare delivery system.
Taught through a Christian ethics framework, our master's in healthcare administration online degree program allows you to focus on your professional interests through one of four available concentrations:
Class Type
100% online, 8-week courses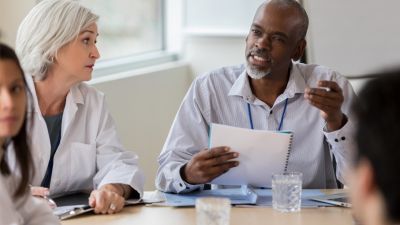 Gerontology: Discover how to provide the best possible healthcare for adults and the elderly. Through this concentration, you will study the challenges, issues and social aspects affecting the aging population. You will also acquire the necessary skills for enhancing the quality of long-term care.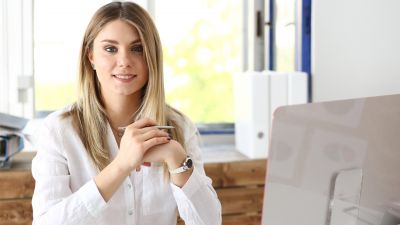 Health Information Technology: As the number of healthcare facilities that rely on electronic systems for maintaining and exchanging health information is growing, the need for effective leaders in information technology grows. Explore how to incorporate information technology into healthcare systems. Focusing on the goal of improving patient care, you will study cost efficiency, clinical quality and safety and security.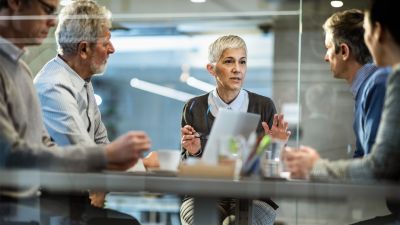 Leadership: Build on your knowledge of core business concepts as you prepare to be a leader in various healthcare management roles. While considering the human aspects of healthcare, you will study human resource management, financial management and organizational management.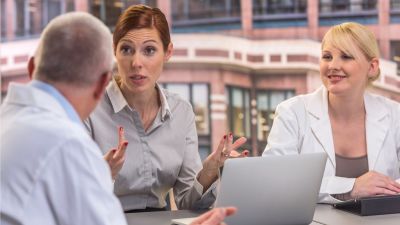 Population Health: Work toward improving the health of entire populations. As you learn how to design a healthcare system, you will explore how to evaluate health risk behavior and the behavioral and psychological factors that affect physical conditions in people. This concentration also teaches you how to manage the costs related to chronic illness.
What can I do with a healthcare administration degree?

A master's in healthcare administration degree gives you the credentials to advance your career and pursue a variety of roles within healthcare management, as well as increase your earning potential. Through the degree program, you will discover how to make a difference in the lives of patients, caregivers and doctors.

An MHA degree helps you pursue a career in human resource management, organizational management or information technology. With this educational background, you can work toward improving healthcare for elderly people or an entire population. Healthcare administration positions are available at many healthcare facilities, such as hospitals and medical group practices.
Is a practicum required for this program?

Our healthcare administration degree program requires the completion of 70 hours of practicum experience. If you have significant professional experience in the healthcare industry, the practicum may be waived.
Is healthcare administration the right career path for me?

Healthcare administration requires the ability to manage finances, maintain organization and ensure that operations are running efficiently. The field also requires strong problem solving and decision-making skills. If you possess all of these skills and enjoy discovering ways to improve the lives of individuals or entire populations, then a career in healthcare administration may be right for you.
Concordia Nebraska

Online Master's in Healthcare Administration (MHA) | Concordia Nebraska Core Concepts

Taught through a Christian ethics framework, the online master's in healthcare administration from Concordia University, Nebraska teaches students the leadership skills required to transform the healthcare delivery system and helps further their careers as healthcare servant leaders who are committed to improving the health of their communities.
Learning Outcomes
Students will be introduced to the health services delivery system, as well as the organization, financing and distribution of health services
Students will explore the key factors of healthcare management, such as governance and organization structures
Students will build an understanding of health policymaking and politics, including the different models of policy making, the role of the government, issues in healthcare planning, the interrelationship of agencies and health insurance
Students will study medical-legal ethics and laws as they apply to healthcare administration and the overall delivery of healthcare
​​​
Program Goals
Apply best practice business principles, including theory and techniques, to the healthcare environment
Communicate clearly, concisely and effectively within the context of professional healthcare environments
Employ key elements of leadership in the decision-making process and identify, direct and resolve considerations as a servant leader
Incorporate moral principles in a healthcare organization and infuse Christian values into all ethical dilemmas and their resolutions
Convey various healthcare issues, trends and perspectives to stakeholders and develop solutions that benefit all parties